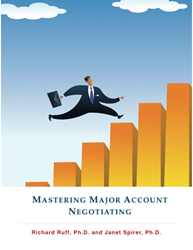 Mastering Major Account Negotiating contains the best practices top performers use in major B2B accounts.
Scottsdale, AZ (PRWEB) June 11, 2014
Sales professionals seeking to take their B2B sales performance up a notch will get an expert helping hand this week as business development experts Sales Momentum publish their second ebook in the Sales Mastery Series.
Packed with best practice insight from top performing salespeople and filled with the authors' experiences working with Fortune 1000 companies, Mastering Major Account Negotiating is an indispensable, strategic asset.
Based on more than a quarter century of structured observations of top sales performers, carried out across a wide variety of industries, the lessons contained within Mastering Major Account Negotiating are tried, tested and proven to achieve success when negotiating in major accounts. Because the ebook focuses in on what successful top performers do and have done in successful sales negotiations, all of the best practices can be put to use right away. There are no arcane and esoteric strategies and academic models, just practical ways to get the job done.
Richard Ruff, Ph.D., Co-founder of Sales Momentum, said, "Because we have trained thousands of salespeople and sales managers on the content of the ebook, we know that the best practices are learnable. Mastering Major Account Negotiating contains the best practices top performers use in major B2B accounts."
Created purposefully as an ebook, Mastering Major Account Negotiating is by design short and easy to navigate. Only the key content is included with no fluff and no page fillers. The content is split into readable and independent topics, all laser focused and relevant to any salesperson negotiating business in major B2B markets. Nine key topics covered include:

building the customer relationship
creating and sustaining trust
creating a bigger pie
planning a negotiation strategy
selling value first, not price
executing a negotiation strategy
price discounting and optimizing profitability
face-to-face negotiation best practices
handling deceptive negotiation tactics
Janet Spirer, Ph.D., Co-founder of Sales Momentum adds, "You don't have to read the whole ebook to succeed in B2B negotiating, you can go straight to the topic where you need help."
Mastering Major Account Negotiating explores the negotiation strategies and skills used by top performers selling in major accounts. To find out more and to download the ebook, visit http://www.salesmomentum.com/negotiation/.
About Sales Momentum, LLC partners with companies engaged in major B2B sales to provide sales training experiences that make a difference. The company specializes in customized sales simulations, on-line sales training, and sales coaching initiatives.
For more than 30 years Richard Ruff and Janet Spirer have worked with the Fortune 1000 to craft sales training programs that make a difference. Richard and Janet co-authored Parlez-Vous Business, to help sales people have smart business conversations with customers and are co-founders of the Sales Training Connection blog. Richard co-authored Managing Major Account Sales and Getting Partnering Right.
Contact
Janet Spirer, Ph.D.
Principal, Sales Momentum
9280 E. Thompson Peak Parkway - Suite 36
Scottsdale, AZ 85255
Tel: 480-513-0900
jspirer(at)salesmomentum(dot)com
Web: http://www.salesmomentum.com
Web: http://www.salestrainingconnection.com