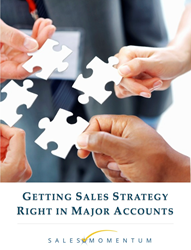 Today you have to differentiate by how you sell, as well as, by what you sell.
Scottsdale, AZ (PRWEB) February 25, 2014
Sales Momentum today shares 7 pitfalls salespeople must avoid when crafting a winning major account sales strategy. These 7 pitfalls are drawn from Sales Momentum's free white paper – Getting Sales Strategy Right in Major Accounts.
Crafting a winning strategy is critical to major account sales success. The larger the sale, the more critical it is for a salesperson to think and act strategically. In larger accounts, the buying environment is complex. There are many decision-makers, the needs are multi-layered, and the solution is complex to design and implement.
However, "there are no generic customers in major accounts. So, there are no winning generic account strategies to 'pick off the shelf'. Each customer is unique and each major account strategy must take that uniqueness into consideration," says Janet Spirer, Ph.D., co-founder of Sales Momentum.
To craft a winning major account sales strategy, Sales Momentum shares 7 pitfalls salespeople must avoid.
1. Forgetting that breadth comes before depth. There is neither the need nor the time to find out everything about everything going on inside an account all at once. Rather, it's important to get a broad information base about the customer early in the sales cycle. This principle provides the foundation for formulating an initial strategy and then guiding the salesperson to where in-depth information is needed.
2. Assuming only one sale is going on. In major accounts two sales are going on. One is developing an advantage over competitors; the other is overcoming "no-decision" momentum. Salespeople can win the first, lose the second and end up with no deal.
3. Underestimating the importance of selling to the C-Suite. Today, the expectations in the C-Suite are higher than ever. Success at the senior level requires bringing new insights to help senior executives formulate the problem and creative points of view about possible solutions.
4. Confusing goals and strategy. Goals are just a long list of things to do. A good account strategy focuses on a few goals and delineates the steps and resources needed for executing the strategy.
5. Incorporating blue-sky ideas. Successful account strategies are realistic – avoid buzzwords and vague statements about the desired outcome.
6. Assuming the future looks like the past. We live and sell in a time of "compressed history." Changes driven by the global market and technology advances make the past a bad predictor of the future. Competitive advantages that once lasted a long time now disappear quickly. When crafting major account sales strategy, assuming what worked in the past will work in the present is a risky premise.
7. Treating account strategy as a one-time event. A successful account strategy is not crafted and then 'put on the shelf to gather dust'. Selling to major accounts occurs in a dynamic environment that must be reflected in frequent updates to the account strategy.
"In today's B2B market you have to differentiate by how you sell, as well as, by what you sell. Thinking and acting strategically has become a cornerstone for sales success," says Richard Ruff, Ph.D., co-founder of Sales Momentum.
You can read more about crafting account strategies in Sales Momentum's free white paper – Getting Sales Strategy Right in Major Accounts – available here in pdf.
_________
About Sales Momentum
For more than 30 years Dr. Richard Ruff and Dr. Janet Spirer – the founders of Sales Momentum – have worked with the Fortune 1000 to design and develop sales training programs that make a difference. By working with companies – such as UPS, Smith & Nephew, Textron, the Center for Creative Leadership, and Robbins & Myers – they have learned that today's standard for a great sales force significantly differs from yesterday's picture. Janet and Richard co-authored Mastering Major Account Selling and Parlez- Vous Business. They also publish the sales blog - Sales Training Connection. Richard co-authored Managing Major Account Selling and Getting Partnering Right. The books are available here.
Contact
Janet Spirer, Ph.D.
Principal, Sales Momentum
9280 E. Thompson Peak Parkway - Suite 36 - Scottsdale, AZ 85255
Tel: 480-513-0900
jspirer(at)salesmomentum(dot)com
Web: salesmomentum.com
Web: salestrainingconnection.com