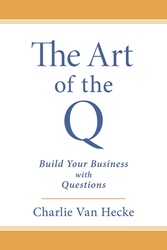 Charlottesville, Virginia (PRWEB) May 19, 2014
Charlie Van Hecke, author and corporate educator who has returned to sales to test his programs, has written a new book, The Art of the Q (Salestrainer4U, 2014) set to be published on May 15, 2014. His latest book gives interactive, researched and tested ways for sales people to sell their products and services, no matter what industry they may represent.
The Art of the Q is written for men and women, of any ethnicity, between the ages of 25 and 60, who are business owners, sales managers and sales people. The book covers how sales professionals can question, tactfully challenge and then listen to confirm the needs and wants of their customers.
"So much of sales training is using gimmicky keywords and slick manipulation," says the author, Charlie Van Hecke. "Not only do I reject that approach, but I thoroughly prove in my book, The Art of the Q, that sales people can listen to their customers by connecting, engaging and understanding them to achieve mutual success. It's a fast-paced narrative written for the busy sales person that is both fun and educational."
The Art of the Q uses case studies from seventeen (17) different industries to build its position. The book contains examples, samples and interactive scripts as guides to encourage business development.
It will be available in all major bookstores and online at bookbaby.com, barnesandnoble.com, amazon.com and other major online retailers.
For more information, visit http://www.salestrainer4u.com.
About Charlie Van Hecke:
Charlie Van Hecke works for an award-winning, international leader in veterinary software. His sales experience includes consulting with several national companies and training and managing sales people on the sales process.
He is also the founder and creator of "Salestrainer4U", a powerful instructional sales system designed to promote economic development at the local level (http://www.salestrainer4U.com).
Additionally, he published "Target 10 To Win", an instructional guide for getting new business boasting a record 300% gain in market share (http://www.Target10toWin.com). He also developed "30-Day New Business Challenge", a weekly guide to new account activities that include gateways, learning tools, and coaching instructions.
Charlie was graduated with a Master's Degree in Human Resource Development from Georgia State University. His portfolio and in depth background can be found at http://www.salestrainer4U.com. He is married, with two children and lives in Charlottesville, Virginia.