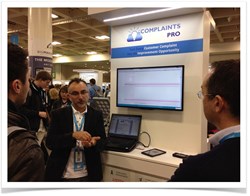 We had customers saying that they had spent a lot of time and money getting an IT team to build only about 20% of what exists in Complaints Pro.
San Francisco, CA (PRWEB) December 19, 2013
Salesforce.com has a Customer Service module which is called Cases. Many customers use Cases to manage their customer complaints, however this doesn't always work. During the Dreamforce event, Coretec found that from those using Salesforce.com Cases to manage their complaints, 60% were not satisfied with the results, mainly because customer complaints get combined with the capture of many other kinds of processes such as information requests, brochure requests, general inquiries, and many other internal matters.
Some companies were managing more than 20 different processes using Salesforce.com Cases, one of them being Complaints.
This represents a potential problem for managing complaints because not all other requests are as time critical as a customer complaint, nor are they as complex to manage. For example, sending out a brochure is an easy process with a series of discrete known steps: identify brochure, get mailing address, pick & pack, send, mark off list, start again.
In contrast, to resolve a customer complaint the steps are not known; the customer complaint needs investigation, the investigation may take the customer service team in one direction or another, and the list goes on. As a result Complaints have been falling through the cracks, not responded to in a timely fashion, or even completely neglected. "Every complaint not handled properly is a risk for a company's reputation." said Paul Evans, CEO of Coretec Solutions, "this is why we created Complaints Pro," he continued.
Complaints Pro had a stand at Cloud Expo - a venue which Salesforce.com refered to as "a Swiss army knife of solutions." It was a place where business and IT professionals could meet leaders in cloud computing.
In the 3 and a half days that Complaints Pro had the stand, over 90 people stopped to ask about the software and watch the demo. Complaints Pro was very well received. It was unique in its focus on complaints management and quality assurance while being 100% Salesforce integrated.
"The reception of Complaints Pro at Dreamforce 2013 was really good. We were the only stand that focused on Complaints in all of Dreamforce 2013." said Mr. Evans. "Everyone who came to our booth had a real interest in Complaint or Quality Management. We had customers saying that they had spent a lot of time and money getting an IT team to build only about 20% of what exists in Complaints Pro."
The Australia based software maker has put together a series of free resources for those companies looking not only to get a better handle of their complaints management, but also to use customer insights to drive continuous improvement in their organizations.
For a closer look at the tools and features, an online live demo of Complaints Pro is always available for free through their website.
-------------------------------------------------------------------
About Complaints Pro
Designed with social media and quality assurance in mind, Complaints Pro is a modern complaints handling system that addresses all nine of the costly mistakes straight out of the box. Request a free 30-day trial today and see it for yourself. For more detailed information about complaints management, turn to any one of our How-To Guides or check out: http://www.complaintspro.com.au.