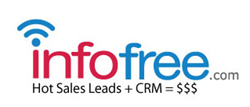 CRM101's map feature helps small businesses and sales people by answering the question, 'Who can I get in front of right now?'
(PRWEB) June 19, 2014
Infofree.com, leading provider of sales leads, mailing lists and email lists has implemented a new feature into its contact management tool, CRM101, to make it easier to get sales. CRM 101 now allows subscribers to view sales leads on a map to easily plan routes or visit nearby prospects.
"Small businesses and sales people want to see their sales leads on a map," said Vin Gupta, founder of infofree.com. "CRM101's map feature helps them by answering the question, 'Who can I get in front of right now?' Infofree.com subscribers can see their prospects on a map…even if the subscriber is sitting in a coffee shop."
CRM 101 allows subscribers to easily organize information about their prospects. Subscribers can also manage their customers' status information and create and organize appointments and tasks. Subscribers will soon be able to upload their customer files to CRM101, which will allow them to see current customers on the map as well.
To take advantage of the new map feature, as well as unlimited background checks, background/criminal searches and business credit reports, visit http://www.infofree.com or call 877-448-0101.
About Us: Infofree.com™ is revolutionizing the sales lead and mailing list industry by providing unlimited search, select and view of over 15 million business records, 250 million consumers and hundreds of other specialty databases for the low, flat price of only $59.95 per month or $599.50 per year. Reach new homeowners, new movers, newlyweds, new businesses and much more.