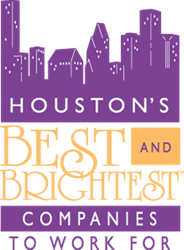 To win in the marketplace, you must first win in the workplace.
Houston, Texas (PRWEB) May 12, 2015
SalesStaff LLC announced today that, for the second year in a row, it has been named one of the 101 Best and Brightest Companies to Work For by the National Association for Business Resources (NABR). An independent assessment was conducted by a third-party, in which staff members were surveyed about various aspects of their employment with SalesStaff. For the past ten years, the NABR has identified several best HR practices and provided benchmarking for companies that continue to be frontrunners in employment standards. Organizations are assessed based on categories such as communication, work-life balance, employee education, diversity, recognition, retention and more.
SalesStaff has built their culture with a pledge to provide a healthy and energetic professional environment for their employees. David Balzen, SalesStaff CEO, said, "We recognize that, in order to be successful, we have to make an investment in the culture of our company." Balzen continues, "We've been fortunate enough to win recognition in the business community for our success, but this award carries a special meaning. It validates our efforts to be a company that celebrates individuality, and inspires our employees to excellence."
This award is the highlight of an exciting year for SalesStaff, having introduced to the B2B marketplace their AllBound360 program – an innovative B2B demand generation solution that combines all of the best elements of inbound and outbound marketing to produce actionable sales opportunities for their clients. SalesStaff President, Bryan Brorsen, commented, "Our success is rooted in the contributions of our team members. We owe them our best efforts to nurture a thriving, vibrant workplace." Brorsen quotes Campbell's Soup CEO, Doug Conant, "'To win in the marketplace, you must first win in the workplace.' It's a philosophy our entire team has adopted and, as a result, the recognition as one of the best places to work truly belongs to all of us."
About SalesStaff
SalesStaff is a premier provider of appointment setting and demand generation services for high-tech and business-to-business companies. For more information, visit http://www.salesstaff.com or contact by phone 888-591-8022 Ext. 333. To schedule an interview with David Balzen or Bryan Brorsen, please contact 888-591-8022 or by email at info(at)salesstaff(dot)com.
About NABR
Based in Warren, Mich., the National Association for Business Resources (NABR) is a business organization of small to medium-sized businesses, representing more than 20,000 members who employ over 200,0000 persons nationally. Members include attorneys, physicians, architects, accountants, construction companies, banks, retailers, wholesalers, manufacturers and the like. Member businesses receive numerous benefits including free legal and financial consultations; discounted technology, automotive and office products; employee training and recruitment assistance; and competitive insurance rates.
###