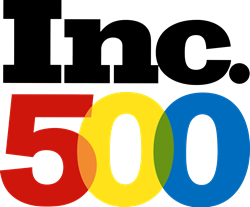 From the top of the organization all the way down, our team continues to churn-out performance-based Demand Generation programs that result in ROI levels rarely realized through traditional forms of B2B marketing.
Houston, Texas (PRWEB) September 03, 2014
SalesStaff LLC, a global leader in demand generation services, announced today that it has been ranked for the second year in a row on Inc. Magazine's 33rd annual 500|5000 list, an exclusive ranking of the nation's fastest-growing private companies. The company ranked 13th among Houston metro area companies, 47th among Business Services companies and 908th overall (see SalesStaff's complete Inc. profile here).
The appearance of SalesStaff LLC on the Inc. 500|5000 list once again is evidence of an increase in demand for inside sales outsourcing services among B2B tech sales organizations. A testament to this increased market demand lies in the 209% increase in market response to SalesStaff marketing campaigns. Progressively, B2B technology sales organizations are turning to demand generation companies like SalesStaff for B2B appointment setting and lead generation services to expand their sales pipeline with qualified, actionable opportunities. As a result, these organizations can compartmentalize their sales teams' efforts, allowing them to concentrate their activity on closing new business rather than taxing them with prospecting activity.
"The success we have achieved through innovating the 40-year-old business process of cold call-based prospecting is the driving force behind SalesStaff's tremendous growth," says SalesStaff CEO, David Balzen. "From the top of the organization all the way down, our team continues to churn-out performance-based Demand Generation programs that result in ROI levels rarely realized through traditional forms of B2B marketing."
In 2014, SalesStaff established several industry-leading processes that have contributed to operational efficiency and overall customer satisfaction. Some notable advances include the development of an intensive Inside Sales Representative training program called SalesStaff University, and advances in technology integrations which has dramatically increased production capacity of up to four times the usual output of in-house teams. Over the past three years, SalesStaff has generated over 15,000 sales appointments and 30,000 sales leads for hundreds of clients resulting in over $3 billion in sales opportunities. SalesStaff is in the business of growth – specifically, developing their clients' sales pipelines and there is no better proof of their proficiency in business growth than the incredible evolution of their own organization.
SalesStaff has experienced remarkable response to their low-risk, high-yield pay-for-performance model where customers are guaranteed a set of results based on their specific needs. One of the most attractive qualities of SalesStaff's Demand Generation programs is that there's no speculation as to how many sales appointments or leads will be generated, as with other Demand Generation investment models. In addition, SalesStaff has reacted well to the market by tendering new, effective services to their B2B technology prospects and clients. With some new additions to their product portfolio on the horizon, SalesStaff will be unveiling a new offering in the future which combines the best aspects of inbound and outbound sales opportunity generation.
SalesStaff President and COO, Bryan Brorsen says, "We've continued to add depth to our business model and continue to respond to the market with innovative programs that deliver for our clients." Brorsen continues, "Ultimately, we're proud to be included in the Inc. 5000 again and we owe the honor to our team, who all share a passion for delivering our clients the very best product in the Demand Generation industry – the result of which is a verifiable impact to our clients' growth."
About SalesStaff
SalesStaff is a premier provider of appointment setting and demand generation services for high-tech and business-to-business companies. For more information, visit http://www.salesstaff.com or contact by phone 888-591-8022 Ext. 333. To schedule an interview with David Balzen, please contact 888-591-8022 or by email at info(at)salesstaff(dot)com.
Methodology
The 2014 Inc. 5000 is ranked according to percentage revenue growth when comparing 2010 to 2013. To qualify, companies must have been founded and generating revenue by March 31, 2010. They had to be U.S.-based, privately held, for profit, and independent--not subsidiaries or divisions of other companies--as of December 31, 2013. (Since then, a number of companies on the list have gone public or been acquired.) The minimum revenue required for 2010 is $100,000; the minimum for 2013 is $2 million. As always, Inc. reserves the right to decline applicants for subjective reasons. Companies on the Inc. 500 are featured in Inc.'s September issue. They represent the top tier of the Inc. 5000, which can be found at http://www.inc.com/5000.
About Inc. and the Inc. 5000
Founded in 1979, Inc. is the only major brand dedicated exclusively to owners and managers of growing private companies, with the aim to deliver real solutions for today's innovative company builders. Total monthly audience reach for the brand has grown significantly from 2,000,000 in 2010 to over 6,000,000 today.
The Inc. 500|5000 is a prestigious list of the nation's most successful private companies has become the hallmark of entrepreneurial success. The Inc. 5000 Conference & Awards Ceremony is an annual event that celebrates their remarkable achievements. For more information, visit http://www.inc.com.
###