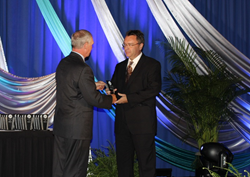 'We have the most capable team in the Demand Generation industry – a team that is passionate about inside sales,' says SalesStaff CEO, David Balzen.
Houston, TX (PRWEB) September 11, 2013
SalesStaff LLC, a Houston-based company and global leader in demand generation services, announced that the company has earned inclusion in the Houston Business Journal Fast 100, a comprehensive ranking of the 100 fastest-growing companies headquartered in Houston, Texas and surrounding areas. SalesStaff learned of their top 20 ranking at the Houston Fast 100 Awards hosted by the Houston Business Journal on September 6, 2013.
This news comes shortly after SalesStaff's ranking as the 87th fastest-growing private company in the United States on the prestigious 2013 Inc. 500 list. These awards are a result of a number of factors – not the least of which is a tangible uptick in demand for inside sales outsourcing services among B2B sales teams, as evidenced by a 75% increase in market response to SalesStaff marketing campaigns. Increasingly, Demand Generation firms like SalesStaff are being called upon by B2B technology companies to manage all or part of their sales prospecting efforts. The B2B appointment setting and lead generation campaigns included in SalesStaff's service offering contribute to clients' sales efforts by expanding their sales pipeline with qualified, actionable opportunities. Thus these organizations can compartmentalize their sales teams' efforts, permitting them to focus their activity on closing new business rather than taxing them with prospecting activity.
There are several players in the Demand Generation landscape, but SalesStaff has grown by leaps and bounds thanks to several key differentiators. SalesStaff's development of numerous industry-leading processes has positively impacted operational efficiency and production capability and the results speak for themselves. In a three-year span, SalesStaff generated over 30,000 sales appointments and 15,000 sales leads for hundreds of clients, resulting in over $3 billion in sales opportunity value. SalesStaff is in the business of growth – specifically, growing their clients' sales pipelines; they have applied the same best practices within their own business to realize such extraordinary growth over the last few years, warranting inclusion on the Houston Fast 100 and the 2013 Inc. 500.
"We have the most capable team in the Demand Generation industry – a team that is passionate about inside sales," says SalesStaff CEO, David Balzen. "Everyone who visits our headquarters frequently comments on the energy and focus present in our operation. We hire individuals who are passionate about Demand Generation and aspire to be the best. It's exciting to lead an operation that creates billions of dollars in sales pipeline value for clients." Balzen continues, "And the best part is hearing the excitement in a client's voice when they've met with a prospect who is advancing into a decision-phase or became a win."
About SalesStaff
SalesStaff is a premier provider of appointment setting and demand generation services for high-tech and business-to-business companies. For more information, visit http://www.prosalesstaff.com or contact by phone 888-591-8022 Ext. 333. To schedule an interview with David Balzen, please contact 888-591-8022 or by email at info(at)prosalesstaff(dot)com.
###