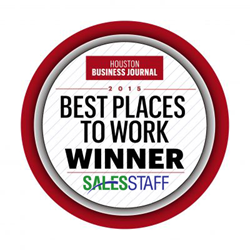 This ranking validates our persistent efforts to weave a set of core values into the fabric of our company culture.
Houston, Texas (PRWEB) November 10, 2015
SalesStaff LLC, a global leader in B2B demand generation services, announced today that it has been named one of the 100 Best Places to Work by the Houston Business Journal (HBJ).
HBJ's Best Places to Work is in its 15th year and honors businesses with distinctive cultures, amenities, benefits and worker-retention strategies. The list is ranked based on scores assembled from employees' thoughts on their respective company. Staffers were surveyed in areas such as goals and leadership, communication and support, advancement opportunity and skill development, recognition and compensation, tolerance and flexibility, and embracing innovation and ideas.
"We take tremendous pride in being honored as one of the best places to work," said David Balzen, CEO of SalesStaff. "This ranking validates our persistent efforts to weave a set of core values into the fabric of our company culture. Although our staff functions as a single unit to deliver world-class services to our clients, we recognize that our team is made up of individuals – incredibly talented people with families, dreams, and aspirations." Balzen continues, "We owe our team a supportive work environment where our team members feel valued and respected. We cannot thank them enough for their hard work and dedication."
The appearance of SalesStaff LLC on the 100 Best Places to Work is a testament to their ongoing pledge to deliver a healthy and lively professional environment for their staff. There are a number of factors that supported SalesStaff's placement on this prominent list. SalesStaff encourages a culture of giving, having contributed to their community through various charitable efforts. In addition, the company strives to create a strong work-life balance and a wholesome environment where the staff share a set of core values.
This award complements a multitude of honors for SalesStaff this year, having also recently been placed on Inc. magazine's annual Inc. 500|5000 list of Fastest Growing Private Companies for the third year in a row.
About SalesStaff
SalesStaff is a premier provider of appointment setting and demand generation services for high-tech and business-to-business companies. For more information, visit http://www.salesstaff.com or contact by phone 888-591-8022 Ext. 333. To schedule an interview with David Balzen, please contact 888-591-8022 or by email at info(at)salesstaff(dot)com.
###