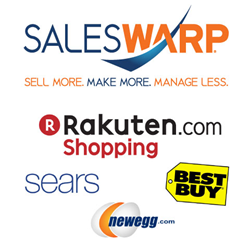 Adding these leading online marketplaces to the SalesWarp platform provides enormous growth opportunities for our clients.
Baltimore, MD (PRWEB) July 11, 2014
Saleswarp, a provider of eCommerce management software for omni channel retailers, announced it has now integrated with Rakuten, the top online retail platform in Japan and worldwide leader in eCommerce sales, along with Sears, Newegg and Best Buy marketplaces.
"Adding these leading online marketplaces to the SalesWarp platform provides enormous growth opportunities for our clients," said David Potts, CEO & Founder of SalesWarp. "With these channels, retailers can now get their products into new markets very quickly to reach new customers and ultimately grow sales substantially".
In addition to their own webstores, POS systems and other online marketplaces, retailers on the SalesWarp ENTERPRISE platform can now sell on Rakuten.com Shopping (formerly Buy.com). Rakuten's US-centric online marketplace that provides over 17 million products from its network of over 5,500 merchants.
In addition to Rakuten.com Shopping, SalesWarp ENTERPRISE now integrates with Sears.com, Newegg and Best Buy Marketplaces. This allows a retailer, from one system, to manage one set of product data and list products for sale across all channels. SalesWarp developed these additional store connectors in a customized implementation for SalesWarp ENTERPRISE client BlutekUSA, an online retailer of electronics and computer accessories.
"Our clients help drive the advancement of the SalesWarp platform, and Blutek's need to sell on these marketplaces is a perfect example of that," says David Anderson, Vice President of Marketing for SalesWarp. "The SalesWarp 2.7 release, coming out this summer, will include many new client-driven features that will help improve omni channel management. All existing and future SalesWarp customers will now have the opportunity to sell on these leading online marketplaces."
SalesWarp provides retailers with a true omni channel commerce solution that consolidates all product, order and customer data from every online and offline sales channel into one centralized system. This allows retailers to synchronize inventory across channels, while connecting to warehouses, suppliers and drop shippers to accelerate order fulfillment.
About SalesWarp (http://www.SalesWarp.com)
SALESWARP, developed by 6th Street Inc., is omni channel management software that helps retailers manage all eCommerce and retail operations from one system. Through powerful automation and integration tools, retailers can easily manage products, orders and customer data while streamlining supplier and inventory management to ensure the delivery of an omni channel shopping experience. SalesWarp offers both an Enterprise and cloud solution (SalesWarp SPARK) and currently integrates with Volusion, Magento, Demandware, osCommerce, Network Solutions, Amazon, eBay, Rakuten, Sears, Newegg and Best Buy. SalesWarp helps retailers sell more, make more while managing less.
About Rakuten.com Shopping
Rakuten.com Shopping is a part of the Rakuten Group, a global e-commerce site that connects buyers and sellers in an online marketplace.
About Marketplace at Sears.com
Marketplace at Sears.com is a community of sellers working with Sears to list their products on Sears.com.
About Newegg
Newegg Inc is a leading online retailer of electronics and computer hardware, software and accessories.
About Best Buy Marketplace
Best Buy Marketplace works with third-party merchants to provide a broader selection of products and brands on BestBuy.com
About BlutekUSA
BlutekUSA is the number one stop for online electronics shopping. With a decade's worth of eCommerce experience, BlutekUSA offers the best in computer accessories and electronics, cellphones and tablets through Amazon, eBay, Raktuen, Sears, Newegg, Best Buy and their own Magento storefront. Blutek takes the time to list products carefully with much attention to detail, avoiding buyer confusion, and shipping purchases safely and on time.