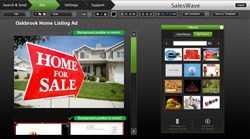 'SalesWave is breathing new life into direct mail with the latest marketing automation software for direct marketing.' -Charles Frazier, founder and CEO of SalesWave, LLC
Dallas, Texas (PRWEB) October 22, 2013
SalesWave, LLC, a Dallas software developer creating solutions for users of customer relationship management (CRM), today officially announced availability of CRMail, a plug-in that revolutionizes direct marketing for postcard mailings.
CRMail, which eliminates about 10 steps in project management for traditional postcard marketing campaigns, integrates within dashboards of six CRM solutions used by 19 million people in the U.S. No graphic design, labels, printing, stamps, manual labor or long lines in mail centers are required when CRM users execute postcard mailings using CRMail within Salesforce, NetSuite, Zoho, SugarCRM, FreshBooks, or Fellowship One.
"SalesWave is breathing new life into direct mail with the latest marketing automation software for direct marketing," said, Charles Frazier, founder and CEO of SalesWave, LLC. "I created CRMail out of necessity to fill a gap in my business software needs, and as a result we've created an industry game changer. Our customers appreciate these new efficiencies in postcard marketing, and there's so much more to come."
How CRMail Works
In 90-seconds or less, users of CRMail can process a complete postcard mailing work order in less time than it takes to craft an email. CRMail includes a drag-and-drop WYSIWYG (what you see is what you get) editor enabling anyone to design a postcard using a plethora of available templates and free public domain images. They can also import existing designs and upload custom photos as needed.
When it's time to conduct a campaign, CRMail users simply locate recipients from their existing CRM database then select the postcard design that promotes the desired marketing message. Once they click "send", their work is over. CRMail handles everything else.
Each recipient's name, address, bar code and postage is automatically applied. Addresses are automatically verified as "valid" to minimize costly returned mail. Every step is accomplished without human intervention. Orders are printed, inspected by an in-house USPS Postmaster and delivered to a USPS bulk mail center.
About SalesWave, LLC
SalesWave, LLC is headquartered in Dallas with a virtual global team developing and innovating software solutions for the CRM industry using the latest JavaScript and HTML5 software advances. Founded by former architect, Charles Frazier, out of necessity to fill the gaps in business solutions, SalesWave is the developer of two applications, CRMail and SOHO, which streamline productivity in postcard marketing and removes the hassle from direct mail through increased productivity and efficiency. Visit http://www.SalesWave.com and follow the company on Google+, Twitter and LinkedIn.