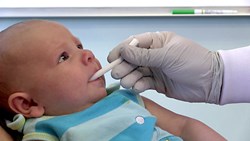 State College, PA (PRWEB) October 16, 2013
Salimetrics, the provider of world-class, saliva-based tools and services for better salivary bioscience research, invites researchers to view a new Infant Saliva Collection Video via YouTube. This video can be used as a guide for collecting infant saliva samples using the Salimetrics Infant's Swab (SIS) collection device for infants and children up to 6 months of age. Researchers can also provide this link as an instructional video to participants collecting saliva in the field.
In response to valuable feedback from the salivary research community, Salimetrics recently enhanced the SIS by providing more rigidity and increased fluid retention for faster and easier saliva collection. The diameter of the Salimetrics Infant Swab was increased to allow the new swab to access more saliva in the newborn's mouth and thereby increase the collection volume. Typical recovered sample volumes are 200-1000 microliters (µL). "With the new design, we felt the need to demonstrate the proper collection procedure in order to maintain the highest quality sample," says Jennifer Jewell, Salimetrics Educational Team Leader. "We teach saliva collection at our Spit Camp training workshops to show that the proper technique is essential for efficient collection of quality samples," says Jennifer. "However, not all researchers are able to attend these training sessions, so we decided that a demonstration video would help illustrate the proper collection procedure. Improper collection can have a huge impact on your study."
All Salimetrics swabs are made from proprietary food-grade materials and are individually packaged to simplify the clean handling of the swabs prior to collection. The Salimetrics Infant and Children's Swabs are specially designed to collect saliva using a "wicking" action through the tip. To absorb saliva, researchers "dab" the swab in the infant's mouth in positions where pools of saliva are likely to form. "While creating the video, we were able to collect an average of 500 µl from an infant 2 months of age and we were able to collect each sample in under 1 minute," notes Jennifer. Jennifer also notes that "although collection from under the tongue is the best location for a consistent sample of mixed saliva, it is sometimes easier to collect saliva samples from preemies wherever saliva can be seen. This will still provide you with a quality sample if you're using the SIS device."
Researchers can visit http://www.salimetrics.com for further information on the Salimetrics Infant's Swab, Spit Camp, or Salimetrics in general. Customer service can also assist in guiding researchers on locating the best saliva collection method for collecting the perfect biological specimen.
About Salimetrics:
Founded in 1998, Salimetrics, LLC supports researchers, the immunodiagnostic industry and functional testing laboratories around the world with innovative salivary immunoassay products and services. Salimetrics' collection techniques, assay kits and CLIA-certified testing services are used to measure biomarkers related to stress, behavior and development, inflammation, sleep, reproduction, health and immune function, including: alpha-amylase, androstenedione, blood contamination, chromogranin A, cortisol, cotinine, C-reactive protein, DHEA, DHEA-S, estradiol, estriol, estrone, IL-1b, IL-6, melatonin, NGF, progesterone, 17α-hydroxyprogesterone, secretory IgA, testosterone, and TNF-a. Salimetrics also provides salivary DNA analysis. The company is based in State College, Pennsylvania with offices in the UK and distributors around the world. For more information, visit Salimetrics on the web at http://www.salimetrics.com.