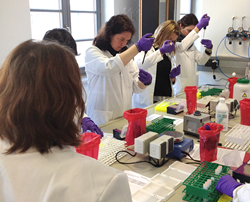 Spit Camp training gives participants the tools to become capable, confident, researchers.
(PRWEB) October 16, 2014
Spit Camp Training Workshops provide researchers training and collaboration to effectively integrate salivary testing into their scientific studies. Utilizing an open forum environment, scientific lectures, and carefully constructed hands-on lab experiments, Spit Camp participants are able to learn both basic and advanced strategies for incorporating saliva into their bioscience research. Spit Camp's structure also allows participants to not only gain practical knowledge and experience in salivary bioscience, but also build relationships, form collaborations, share ideas, and get valuable feedback.
Last year, a survey of post Spit Camp I attendees showed that 84% of participants have applied the knowledge gained at Spit Camp to advance their research by utilizing data from actual biological systems. "We randomly surveyed 80 of the past 233 Spit Camp I participants to determine the effectiveness of the program and appoint areas of improvement. What we learned in the end is that everyone walks away with knowledge that has enabled them to move forward," says Dr. Douglas Granger, Spit Camp Program Director. "This tells me that Spit Camp training gives participants the tools to become capable, confident, researchers." Salivary bioscience is a quickly advancing field, so the survey also helps Spit Camp trainers to continually enhance the program's educational content by incorporating attendee's practical needs.
The Spit Camp I program was designed for both beginners new to salivary research, as well as faculty, post-docs or advanced graduate students and continues to feature a two-day lab and lecture component. The lecture covers theoretical perspectives; oral fluid as biological specimens; practical aspects of sample handling, collection, study design, the basics of immunoassay used for saliva analysis, and recommendations for writing papers, presentations, and proposals. The hands-on supervised lab training covers sample processing, salivary immunoassay and kinetic reaction assays. Samples are collected and assayed and data is generated for discussion and analysis. In the end participants walk away with theoretical and applied knowledge to integrate salivary analytes into behavioral, developmental, and health sciences.
In 2014, based on survey results and numerous requests for a sequel, IISBR's team added a new level to the Spit Camp series; Spit Camp II. This advanced version of Spit Camp focuses on research methodology and statistical analysis of data, and offers attendees a unique 2-stage platform in which participants are able to connect with ASU's team of experienced salivary bioscience consultants as well as an extended network of adjunct faculty with multi-disciplinary backgrounds. Stage I allows participants to use IISBR's team to read actual (or simulated) data-sets and understand basic statistical knowledge. Stage II provides participants with two/three days of instruction and lectures using archived data to illustrate common strategies, individual work, and use collaborative problem-based learning to solve complex statistical issues involved in analyzing and modeling salivary analyte biomarker data. In the end, participants will develop and refine research questions as well as outline and execute analytical strategy in order to produce a product (grant proposal or publication) with minimal additional effort.
Spit Camps are held monthly at Arizona State University IISBR, depending on enrollment and class size. Researchers also have the option to attend Spit Camp I through Salimetrics European branch. Additionally, Spit Camp is available to be scheduled on-location, as a training workshop at a researchers own university through Salimetrics. Researchers can register for either Spit Camp at Salimetrics' Spit Camp page; http://www.salimetrics.com/workshops , directly through ASU's Spit Camp page; http://iisbr.asu.edu/spit-camp/ or by calling 480-965-6944. To schedule a Spit Camp at your university, please Request a Visit. To learn more about the different Spit Camp platforms, visit ASU's Spit Camp page; http://iisbr.asu.edu/spit-camp/.