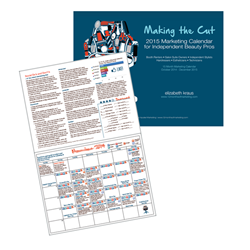 Seattle, Washington (PRWEB) October 26, 2014
Making the Cut: The 2015 Marketing Calendar for Beauty Professionals is just the latest publication released for salon and spa professionals from Seattle area marketing consultant Elizabeth Kraus. The 2015 salon marketing calendar joins a long lineup of salon marketing publications including salon marketing calendars published for 2011-2014 and her book, 12 Months of Marketing for Salon and Spa.
Kraus attributes the idea of writing a salon marketing guide to her years of experience doing marketing for regional salon and spa product distributors, which provided a 360 degree industry view. This experience exposed a need to provide resources that can help spa and salon owners attract new clients as well as develop demand for professional salon retail products, many of which can only be purchased in a licensed salon or spa environment.
"Salon product manufacturers and distributors do a good job of branding their product lines, but once they are placed in the salon or spa, it's really up to the salon owner to figure out how to move them," Kraus explained. "Creating demand for professional salon products takes more than just making them available, but beauty professionals often feel reluctant when it comes to proactively 'selling' products to their clients. The 2015 Marketing Calendar for Beauty Professionals is a great guide for salon owners and stylists that need to know how to introduce and recommend the professional retail products they offer to clients without feeling like they are coming on too strong with clients in the process."
The 2015 Marketing Calendar for Beauty Professionals is laid out in a traditional wall calendar format. Each month includes tips for best practices in areas such as email marketing, social media, managing reviews and reputation, and other marketing topics. As in previous editions of the calendar, Kraus has included marketing themes and ideas for nearly every day of the year, and puts special emphasis on providing a schedule for digital marketing activities.
Kraus points out that, "Like other local businesses, salons and spas need to be aware that apart from personal recommendations, an internet search is the most likely tool a prospective client is likely to use to find a salon or spa in their area. It's critical for salon and spa marketers to master the art of attracting local customers through local search optimization of their website and engaging email and social media marketing tactics."
The 2015 Marketing Calendar for Beauty Professionals: Making the Cut is available on amazon.com for individual purchase or from publisher createspace.com for individuals or wholesalers desiring to distribute or resell the calendar. In addition, a digital version of the calendar will be published before the first of the year.