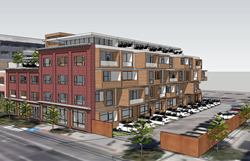 Paragon Station will be the first LEED Gold Certified condo community in Salt Lake City, Utah.
Salt Lake City, Utah (PRWEB) January 20, 2015
Clearwater Homes is beginning construction in the spring of 2015 on the Paragon Station, a new downtown LEED Gold Certified condominium project in Salt Lake City, Utah. The familiar Westgate Business Center building located on the Northwest corner of 300 West and 200 South will be given more than a facelift this time around. The 94 year old building will be going through a major rehabilitation where all but the bones and south historical façade will be transformed to make way for the company's modern vision. The new design will retain the historic beauty of the southern elevation while playing with the push and pull of cubism and contemporary materials along the east and north facades.
Clearwater Homes will implement renewable energy and sustainable green building techniques, including the use of non-consumptive geothermal heat energy to heat and cool the building, thermal blocking, aggressive insulation, and direct source building materials.
"Paragon Station is going to be an incredible journey for Clearwater Homes. Not only will the Paragon be a compelling modern expression for Salt Lake City, it will also be an environmentally responsible design considerate of the City around us," explained Micah Peters, CEO of Clearwater Homes. "New home owners will benefit from our commitment to LEED certification through low energy bills and knowing that they are going a long way towards reducing the air pollutants in our great City," Peters added.
What is LEED Gold Certified?
LEED stands for Leadership in Energy and Environmental Design. It is the nationally accepted benchmark and third-party verification system that provides accreditation to builders who demonstrate knowledge of green building practices and principles and who implement these practices into their construction and design.
The LEED program uses a point system that rewards builders for sustainable practices. Points are awarded for sustainable building expertise, community improvement, proximity to public transportation, designs that cut down on water and electricity usage and minimal impact on surrounding ecosystems, and designs that promote better air quality and greater access to natural light. Higher point values earn the builder a higher level of certification (e.g. certified, silver, gold, platinum).
What is so great about LEED Certification?
LEED certified buildings:

Have lower operating costs.
Have a higher asset value.
Conserve water and energy. (LEED Gold buildings consume an average of 30% less energy and 11% less water).
Are healthier and safer for occupants.
Reduce greenhouse gas emissions (In the U.S., buildings account for 38% of greenhouse gas emissions and 73% of U.S. electricity consumption).
Show the owner's commitment to environmental stewardship and social responsibility.
Paragon Station (and the recently completed Broadway Park Lofts) are just the beginning. Clearwater Homes is committed to supporting sustainable development in Salt Lake City and plans to make continued investments in the downtown area.
Click here for more information on Paragon Station.
About Clearwater Homes
Clearwater Homes is an innovative residential developer with a focus on new homes, condo communities, and urban lofts in the Salt Lake region. For more information, call 801-218-2895 or visit http://www.clearwaterhomesutah.com.