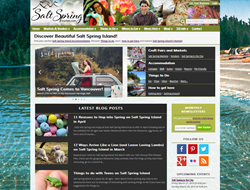 The new SaltSpringMarket.com is an invaluable resource for visitors to plan and book their Salt Spring Island escape.
Vancouver, BC (PRWEB) March 20, 2015
Emma-Louise and Duncan Elsey are excited to announce the launch of the recently revamped website, SaltSpringMarket.com (http://saltspringmarket.com/ ). Created in 1998 as a way to highlight the many farmer and artisan vendors on the island's famous Saturday market, it has grown to be one of Salt Spring's premier tourism websites. Redesigned both inside and out, SaltSpringMarket.com now includes more information about Salt Spring than ever before, ready for people to plan and book their summer holidays.
Voted one of the "World's Best Islands" by Conde Nast Traveler and "Canada's coolest island" by the Washington Post, Salt Spring Island is truly one of Canada's jewels. The largest Southern Gulf Island off the West Coast of Vancouver in British Columbia, Canada, it's a mecca for art-lovers, foodies, organic farmers, health, yoga and outdoors fanatics. Visitors flock to Salt Spring from the city to escape their busy lives.
The Elseys first visited Salt Spring in 2006 and fell in love with this eclectic island, moving there full-time in 2008 to run their online businesses.It was when listing their holiday cottage on SaltSpringMarket.com that the previous website owner and Emma-Louise got chatting. 18 months later the Elseys bought SaltSpringMarket.com. Their vision for the website is to get people excited about Salt Spring Island - and provide visitors with all the information they need to plan and book their holidays - year round.
As well as learning about the famous Saturday Market, visitors to the revamped Salt Spring Market website can discover everything that Salt Spring has to offer. This includes finding the perfect Salt Spring Island accommodation,how to get there, where to eat and what to do. In addition the site has now been optimised for mobile use - on tablets and smartphones - so that people can learn about Salt Spring Island wherever they are.
The new SaltSpringMarket.com helps visitors to:

Enjoy the many eclectic art galleries and artisans.
Sample cheese, wine and ale from renowned artisan cheesemakers, wineries and a craft brewery.
Pick-up delicious meal ingredients direct from local farmers at one of the markets.
Explore the many beaches, discover hikes for all levels of ability and see the local wildlife.
Need to relax? Head to a yoga studio or have a spa or wellness treatment.
Explore the many stores with something for everyone - from hippy through to city chic.
With so much on offer, Salt Spring is an increasingly popular and fun place to "staycation". A magical place to visit, Salt Spring has secluded beaches, gorgeous views and secret gems like faerie doors, traditional "honour-based" farmstands and unique hidden away cafes. Take in some live music at many venues year-round and there's even a digital movie theatre in an old church and a 9-hole golf course!
Packed with information from local events to seasonal activities, romantic getaways to family holidays and from great shopping to the great outdoors, the new SaltSpringMarket.com highlights everything uniquely Salt Spring. No longer just for hippies, learn why Salt Spring Island is truly hip at SaltSpringMarket.com.
ABOUT SALTSPRINGMARKET.COM
SaltSpringMarket.com was started in 1998 to give the many farmer and artisan vendors on Salt Spring Island's famous Saturday market an online presence. It has since grown to be one of Salt Spring's premier tourism websites and one of the best places for local business owners to advertise their businesses.
SaltSpringMarket.com provides everything you need to book and plan your visit to Salt Spring Island including finding Salt Spring accommodation, where to eat, things to do, local events and store listings. In addition the Salt Spring Island blog highlights what is happening in the coming month plus great vacationing ideas. SaltSpringMarket.com aims to attract visitors to Salt Spring Island year-round as an outdoors, wellness, arts and foodie destination.