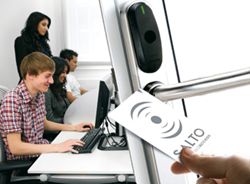 This technology could save lives if violent offenders, gunmen and sexual predators stalked the hallways.
Melbourne, Australia (PRWEB) August 11, 2014
Omega Security Solutions are pleased to announce the launch of the pioneer "Salto AMOK escutcheon" System to their suite of services; it's designed for use in schools, colleges and universities in case of security breaches or other emergency events.
The new Salto AMOK escutcheon is an electronic system that provides lockdown capability. Students and teachers can remain safe in a classroom in case of a threatening event while all doors remain locked until the event is over. It's compatible with almost any type of door and has built in card reader enabling authorised users to activate the AMOK function mode quickly.
Ben Dougall, Director at Omega Security Solutions, explains, "The AMOK function mode is initially configured on a user's card, which is set up by the school, college or university's Security Manager via Salto Pro Access or HAMS software. In the event of a security situation, anyone with AMOK privileges just waves it at the reader installed on the door." When the AMOK function is activated, access is prohibited to unauthorised persons while students and teachers are securely locked within an area. Authorised AMOK override privileges are usually assigned to a Headmaster, Principal, or Security Manager, enabling them to access the locked down room at any time.
As the Herald Sun recently reported, "Victorian schools are signing up for hi-tech security systems that can lockdown classrooms if armed intruders enter the grounds. Up to 30 Victorian schools are currently upgrading to electronic access systems, which can instantly lock classroom doors in the case of an emergency."
Mr. Dougall responded to this report by saying, "This technology could save lives if violent offenders, gunmen and sexual predators stalked the hallways. Schools are looking for the lockdown feature like what we now offer. In the last five to ten years, we have seen more electronic security systems coming into schools and CCTV is being implemented on a greater scale.''
The Salto AMOK electronic locks, available in a wide range of models, are completely integrated in the Salto XS4 platform and can be installed in almost any kind of door, including narrow profile doors. For further details on the Salto XS4 AMOK emergency lockdown system, visit http://www.omegacorp.com.au/AMOK-Education-Lockdown
About Omega Security Solutions
Since 1973, Omega Security Solutions has been helping Australians protect their homes and their businesses. With humble beginnings as a small family business, their solid integrity and impressive work ethic have made them become recognised today as an industry leader in providing the latest security technology products. The company slogan has remained the same over the decades: "Good security is good business."