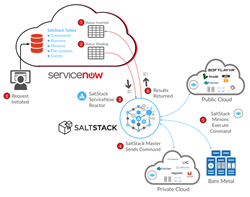 "The SaltStack integration with ServiceNow bridges an all-too-common gap in business between people and the technology they need to get work done and sustain competitive advantage. This gap often results in shadow IT."
Salt Lake City (PRWEB) April 01, 2015
SaltStack, the creators of orchestration software for event-driven cloud infrastructure, today announced it has received certification of its integration with ServiceNow. Certification by ServiceNow signifies that SaltStack Enterprise cloud and data center orchestration software has successfully completed a set of defined tests focused on integration interoperability, security and performance. The certification also ensures best practices are utilized in the design and implementation of SaltStack Enterprise integration with ServiceNow.
Enterprise IT operations management teams use SaltStack software integrated with ServiceNow to deliver Web-scale IT through the efficient deployment, provisioning and ongoing management of multi-cloud infrastructures and requested business services and applications.
Used together, SaltStack Enterprise and ServiceNow create a modern cloud and data center infrastructure management platform to help customers:

Improve customer service by automating as much IT process and workflow as possible for more agile, business-oriented IT infrastructure;
Deliver event-driven cloud and data center environments through the intelligent provisioning of any cloud, infrastructure or application stack;
Migrate applications and workloads to and from any cloud or infrastructure to avoid cloud lock in;
Establish IT operations transparency through process governance and compliant IT automation;
Control IT environments through closed-loop change and configuration management;
Reduce service request fulfillment costs with fully automated self-service and an actionable service catalog; and
Combine the best of ITIL and DevOps methodologies.
Marc Chenn, SaltStack CEO, said, "The SaltStack integration with ServiceNow bridges an all-too-common gap in business between people and the technology they need to get work done and sustain competitive advantage. This gap often results in shadow IT. With cloud and data center infrastructure in high demand, IT teams are on the hook to simultaneously make cloud resources easily accessible and consumable while ensuring responsible consumption and oversight.
"SaltStack and ServiceNow technologies effectively automate time-consuming tasks and essential processes to make Web-scale IT possible for any business. Our mutual IT operations and IT service management customers realize the benefits of a modern systems and cloud management platform that was built for agile, efficient and secure delivery of tech-dependent business services."
SaltStack provides full command and control of IT infrastructure. With the SaltStack integration to ServiceNow, customers can utilize the ServiceNow UI to tap the power of SaltStack IT operations automation for robust data center and cloud orchestration and configuration automation. This integration wraps ServiceNow governance and workflows around SaltStack event-driven infrastructure automation, marrying best-of-breed automation for people, process and technology.
SaltStack Enterprise exponentially expands the cloud orchestration and data center automation possibilities available to ServiceNow customers. SaltStack can be used to deploy, manage and configure essentially any cloud, operating system, virtualization, application or code.
Common uses cases for the SaltStack Enterprise integration with ServiceNow include closed-loop change and configuration management to help achieve a proper balance between IT operations speed and agility, and the need for risk management. ServiceNow process automation is utilized for change management workflow, review and approval, and SaltStack for automation of change execution and compliance at the infrastructure level.
Customers can also use SaltStack Enterprise with ServiceNow for end-to-end service request fulfillment. ServiceNow is utilized for its self-service and service catalog portals and SaltStack is used to provision and maintain requested software (code, applications, application containers, operating systems, etc.) and infrastructure (virtual machines, servers and hardware in public cloud or private infrastructure).
Knowledge15
SaltStack is proud to be a sponsor of Knowledge15, the ServiceNow user conference. Find SaltStack in Las Vegas, April 19-24, to learn more about the next-generation of IT systems and service management.
Licensing and availability
The SaltStack integration with ServiceNow is now available to SaltStack Enterprise customers. Visit the SaltStack orchestration for ServiceNow webpage to learn more about the integration.
Additional resources:

About SaltStack
SaltStack is a complete systems management software platform for fast and scalable automation of any cloud, application stack or data center infrastructure. Specifically, SaltStack is used by system administrators and developers to automate configuration management, private cloud building, public cloud orchestration and autonomic infrastructure. The Salt open source project was launched in February of 2011 and is now one of the fastest-growing, most-active communities in the world. SaltStack was founded in August 2012 to support the Salt project and to deliver SaltStack Enterprise packaged for the world's most-dynamic large and small businesses, web-scale applications and clouds. SaltStack won the Best of VMworld Gold Award for virtualization management, won an InfoWorld 2014 Technology of the Year Award, won the 2013 GigaOm Structure LaunchPad competition, was named a Linux Journal Reader's Choice product in five categories, was named a Gartner 2013 Cool Vendor in DevOps, and was included on the GitHub Octoverse list for 2012 and 2013 as one of the largest, most-active open source projects in the world. For more information, please visit SaltStack.com.