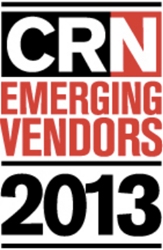 From a list of more than 225 emerging vendors, CRN selected SaltStack and 24 others as the coolest tech startups in 2013.
Salt Lake City (PRWEB) August 14, 2013
SaltStack, the full automation stack for the Internet assembly line and any cloud, today announced CRN named the company one of the Top 25 Coolest Emerging Vendors for 2013 in the category of "data center."
Each year, CRN looks at the hot IT startups making an impact on the channel and impressing the tech industry as a whole. This year, the Emerging Vendors for 2013 list includes startups that were established no earlier than 2007 across a number of technology categories. From a list of more than 225 emerging vendors, CRN selected SaltStack and 24 others as the coolest tech startups in 2013.
SaltStack provides flexible, easy-to-use software for real-time infrastructure automation and application stack configuration management. SaltStack is known for its speed and its ability to scale unmodified to support environments with tens of thousands of systems with no performance or functional degradation.
Marc Chenn, SaltStack CEO, said, "The tech industry, from consumer app startups to enterprise IT, are all running toward Web scale and big cloud. SaltStack is busy making the software that automates this Internet assembly line and is an excellent complement to the DevOps approach emerging from it. Our success in large part is due to a healthy and vibrant open source community, with its hundreds of developers, building an automation platform for the very unique needs of their modern data centers.
"Now millions of systems administrators and IT pros have downloaded the SaltStack software to help make their jobs easier and to keep mission-critical Web-scale applications and enterprise clouds running. This recognition from CRN is indicative of shift in the way things were done before and we are proud to be associated with this group of innovators, the new breed of data center technologies."
SaltStack is used by systems administrators to provision, orchestrate and manage any physical, virtual or cloud environment. SaltStack is unique in providing enterprise software for remote system execution together with configuration management built specifically for modern data center infrastructures.
SaltStack takes a common-sense approach to server infrastructure configuration and automation, is written in Python, utilizes easy to create and read YAML for configuration formulas, and works in a push or pull model with intelligent masters and minions for flexible, dynamic, real-time automation.
Find SaltStack
Like SaltStack on Facebook: https://www.facebook.com/saltstack
Follow @SaltStackInc on Twitter: http://twitter.com/SaltStackInc
Hack with the Salt community: http://www.saltstack.com/community
About SaltStack
SaltStack is a complete systems management software platform for fast and scalable automation of any cloud, application stack or data center infrastructure. SaltStack is used to orchestrate and control physical and virtual infrastructure while providing application and code deployment and configuration for the DevOps toolchain. The Salt open source project was launched in February of 2011 and is now one of the fastest-growing, most-active communities in the world. SaltStack was founded in August 2012 to support the Salt project and to deliver SaltStack Enterprise packaged for the world's most-dynamic large and small businesses, web-scale applications and clouds. SaltStack won the 2013 GigaOm Structure LaunchPad competition, was named a Gartner 2013 Cool Vendor in DevOps, was named to the GitHub Octoverse Top 10 list for 2012, and was a BlackDuck Rookie of the Year for 2011. For more information, please visit SaltStack.com