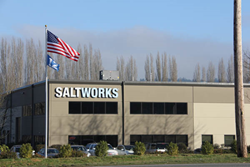 Woodinville, Washington (PRWEB) June 04, 2014
EY announced that CEO Mark Zoske of SaltWorks is a finalist for the EY Entrepreneur Of The Year™ 2014 Award in the Pacific Northwest. The awards program recognizes entrepreneurs who demonstrate excellence and extraordinary success in such areas as innovation, financial performance and personal commitment to their businesses and communities. Mark Zoske was selected as a finalist from nearly 2,000 nominations by a panel of independent judges. Award winners will be announced at a special gala event on June 20, 2014 at the Hyatt Regency Bellevue, Bellevue, Washington.
Regional award winners are eligible for consideration for the EY Entrepreneur Of The Year National program. Award winners in several national categories, as well as the EY Entrepreneur Of The Year National Overall Award winner, will be announced at the annual awards gala in Palm Springs, California, on November 15, 2014. The awards are the culminating event of the EY Strategic Growth Forum®, the nation's most prestigious gathering of high-growth, market-leading companies.
About EY Entrepreneur Of The Year™
EY Entrepreneur Of The Year™ is the world's most prestigious business award for entrepreneurs. The unique award makes a difference through the way it encourages entrepreneurial activity among those with potential and recognizes the contribution of people who inspire others with their vision, leadership and achievement. As the first and only truly global award of its kind, Entrepreneur Of The Year celebrates those who are building and leading successful, growing and dynamic businesses. Now in its 28th year, the program has expanded to recognize business leaders in more than 145 cities in more than 60 countries throughout the world.
About SaltWorks
SaltWorks is America's Sea Salt Company®, founded in 2001 and offering the largest selection and finest brands of gourmet sea salt in the world, including Artisan Salt Company®, Fusion®, Pure Ocean®, and Bokek®. No other company offers as many all-natural salt varieties, packaging configurations, or grain sizes. All of SaltWorks salts are kosher certified and guaranteed for purity and quality.