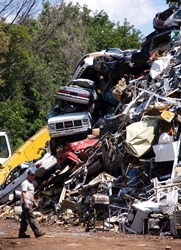 This database is in combination with our junkyard partners included this year
Akron, Ohio (PRWEB) July 28, 2013
The used car industry is partly supported by salvage vehicles that are bought and sold at auctions and other private sales. Consumers who have resources to find these vehicles can reduce the purchase price for many makes and models. The Auto Pros company has now launched its salvage automobiles database online at http://autoprosusa.com/salvage-cars-for-sale.
This database links consumers with hundreds of sources currently selling salvaged cars, trucks and sport utility vehicles in the U.S.
"This database is in combination with our junkyard partners included this year," said a marketing specialist from the AutoProsUSA.com company.
Advancements in technology have helped to program the accessible database of listings online. All content is published daily by company staff to ensure that each listing provides accuracy. This database of vehicle suppliers includes all relative parts that can sometimes be required to upgrade vehicles.
"Consumers in states with little access to salvaged automobiles will benefit from the new database," the specialist added.
The national search features that are presented to each website visitor makes it easier to locate parts regardless of the location of the country where consumers have parts shipped. Distribution partners now work closer with the Auto Pros company providing end user fulfillment services.
Ford, Chevy, Chrysler, Plymouth, Honda, Dodge, Toyota and Jeep are all represented in the listings that are now accessible. More import editions are being included daily to expand the inventory that any consumer can browse with a standard Internet connection. Prices that are linked with each salvage vehicle and related parts are among the lowest currently found online.
A new program for consumer reviews has launched with equal enthusiasm by this company. Apart from salvage and junk yard listings, reviews of top auto industry components and products that are sold by third party retailers are now posted online.
These reviews are offered to connect buyers with products that can be purchased for reduced amounts with and without coupon codes online. Many of the products inside each review are limited in supply or unadvertised discounts. These reviews are accessible directly from the company homepage.
About AutoProsUSA.com
The AutoProsUSA.com company created and launched its resources for junkyard auto parts online in 2013. This company has now expanded into the salvage auto industry to increase the size of its inventory and resources for buyers. This company has constructed its database for automobile parts and accessories for all makes and models. The AutoProsUSA.com company promotes its complete inventory in the U.S. to auto buyers who are searching for discounted prices and rapid shipping. The database that is launched by this company is available for access daily and all content is updated regularly to maintain consistency.