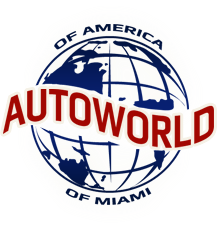 Luis Hernandez, AutoWorld of America:"In a week we average about 5 new cars on the site. Check our website frequently to stay up-to-date on the vehicles in-stock."
Miami, Fl (PRWEB) June 30, 2014
For 25 years, Autoworld of America has made it easy to get a good price on a quality vehicle. Now, the company is turning to social media to make the process even easier. This summer, Autoworld of America will be adapting to the ever-growing online marketplace by launching a discount solely through the social media profiles of the business.
Summer Discounts Via Social Media
By summer, Autoworld of America always has a new selection of salvage, rebuilt, rebuildable, and repairable vehicles at their Miami location. This summer, Autoworld of America will be giving their social media followers the chance to save 10 percent off regularlylistedvehicles or 5 percent off of the current sale cost.
The offer, only available through social media, will be listed on Autoworld of America profiles on Twitter, Facebook, Instagram, and Google+.
Consistent Weekly Updated Salvage Vehicle Inventory
Every week, Autoworld of America acquires and lists new salvage and rebuilt vehicles. Luis Hernandez of Autoworld of America had this to say about the summer inventory:
"In a week we average about 5 new cars on the site (salvage or rebuildable). People should check our website frequently to stay up-to-date on the vehicles in-stock."
Autoworld of America curates a wide selection of low-mileage salvage and rebuilt vehicles that range from cars like the Mercedes-Benz GLK-Class to the BMW 528 and beyond.
About Autoworld of America
Autoworld of America is a salvaged and rebuilt vehicle dealer with more than 25 years of experience in the industry. Together with their subsidiary Autoworld Used Parts, they are the areas premier source for salvage, rebuilt, repairable, and rebuildable cars, trucks, vans, SUV's, and parts. Autoworld of America partners with industry leaders to supply quality, lower priced vehicles to countries around the globe.
To check out the vehicles and opportunities at Autoworld of America, visit their newly re-designed website at http://www.autoworldofamerica.com/.