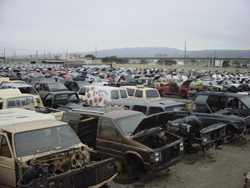 We are now able to help consumers find and order most replacement vehicle parts that are available for import or USA manufactured cars
Baton Rouge, LA (PRWEB) August 28, 2015
Consumers who have interest in buying used car components in the state of Louisiana will now be able to order direct from junk yards in Baton Rouge, LA thanks to the CarPartsLocator.com company. New yards have been added to the statewide reseller network of companies. Details about the yards offering components can be found at http://www.carpartslocator.com/junk-yards-in-baton-rouge-la.
The entire metro area including East Baton Rouge Parish is now supported by the auto parts dealers in the CPL network this year. New companies that are positioned along the I-110 Corridor can be reviewed for actual inventory in stock when accessing the network parts finder on the Car Parts Locator website.
"We are now able to help consumers find and order most replacement vehicle parts that are available for import or USA manufactured cars," a source said at the CarPartsLocator.com website.
The Baton Rouge scrap yards that have joined the network of suppliers will now expand the inventory searchable online at the CPL website to over a million components. While prices are expected to vary from yard to yard, consumers will still receive warranty policies for ordered components under the standard terms of sale.
"The wrecking yards and salvage yards across the state of Louisiana that we are now in partnership with will bring new buying opportunities to adults," said the source.
The Car Parts Locator portal has received a new upgrade to the customer support center. A new phone system and number at (989) 891-9212 is in place and is active for customers to use when inquiring about any components that are in stock.
About CarPartsLocator.com
The CarPartsLocator.com company has completed the construction of its web based vehicle components search tool this year. The company now offers research by regional areas of the United States to find in stock auto parts. The CarPartsLocator.com customer support team is now accessible through a specialized number to provide immediate support to consumers.