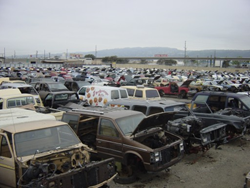 We've expanded our reach to the state of Tennessee to open up better distribution and parts exploration for mechanics or regular vehicle owners
Knoxville, TN (PRWEB) April 13, 2015
Knox County, Tennessee is now one of the locations where consumers can search for used condition automotive parts on the web using the CarPartsLocator.com website this year. A fresh source of salvage yards in Knoxville are now offering preowned OEM components for sale statewide at http://www.carpartslocator.com/salvage-yards-in-knoxville-tn.
The auto junk dealers that are now searchable inside the computerized research system at the CPL website are top companies that have agreed to list inventory and prices for consumers. The yards are equipped to ship at the local level as well as national level to give all components purchasers a way to buy inventory.
"We've expanded our reach to the state of Tennessee to open up better distribution and parts exploration for mechanics or regular vehicle owners," said a Car Parts Locator rep.
The Knoxville auto salvage companies that are providing the inventory this year are able to provide a lower than MSRP price point to consumers. Because of the raise in freight costs to ship motors and transmissions, not every company is able to send out orders with no charge freight. Each provider now lists shipping costs if applicable in the searchable database.
"Buying from a salvage yard has always been one way that car owners or car restoration companies have depended on to find a more affordable price," said the rep.
The Car Parts Locator website is also featuring junk yards in Nashville and Chattanooga that can be researched by consumers on the web. The search portal is currently programmed to supply access to these companies when a vehicle model and year of manufacturing are provided in the search system.
About CarPartsLocator.com
The CarPartsLocator.com company supplies access to national auto salvage companies through its research platform on the Internet. Consumers can now locate vintage and newer edition vehicle components listed for sale prices. The CarPartsLocator.com company promotes the discounts of partner companies and adds new suppliers to its customized computer system weekly.