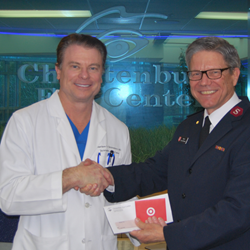 ... We hope our donation creates a safe environment for mom and her children ...
Charlotte, NC (PRWEB) December 29, 2015
Once again, Christenbury Eye Center is sponsoring a family in need this holiday season with the help of the The Salvation Army Center of Hope. This year marks the 11th year Christenbury Eye Center has sponsored a family by providing funds for permanent housing and utilities. Dr. Jonathan Christenbury is challenging the Charlotte community to also provide support to help get more families off the streets and out of shelters to find permanent homes.
The sponsored family receiving this year's donation include a working mother and her two children, ages 2 and 4. This mother works at Chick-Fil-A and is currently studying to take the General Educational Development (GED) test. As in prior years, Christenbury Eye Center provides support for rent and utilities for six months. In addition, the family will receive a Target gift card for home supplies and also to provide a Christmas for the children. The goal is to help this family move from the shelter to a more stable living situation. Once moved, Mom can focus on finding a better job and education for her children.
"We're happy to help this family, as we have helped 10 others, gain stability this holiday season. We hope our donation creates a safe environment for mom and her children so they can focus on a stable and productive future," says Dr. Jonathan Christenbury, Medical Director, Christenbury Eye Center. "I want more people in our community to do the same. Let's step up and help our homeless families and give them the best gift ever this holiday season."
Through the Center of Hope, The Salvation Army helps homeless women and children in the community with their immediate needs of shelter, food and social services. Located two miles north of Uptown Charlotte, the Center of Hope sleeps an average of 300 women and children every night. An active member of the Homeless Services Network, The Salvation Army is a leader in providing families with a successful way out of homelessness, helping them enter permanent, affordable housing through their Rapid Rehousing program and other programs tailored to the needs of individuals and families.
For more information about contributing to this worthy cause, visit the Charlotte Salvation Army's website or call them at 704-348-2560.
For more information about Christenbury Eye Center, call (877) 702-2020 or visit the Christenbury Eye Center website and watch the Facebook page for more information.
About the Christenbury Eye Center
Dr. Jonathan Christenbury established Christenbury Eye Center in 1987 and is known for his groundbreaking work in vision care. For two decades he has consistently been one of the first surgeons in the Carolinas to perform many pioneering vision care procedures including LASIK, Visian ICL, ReSTOR® and TECNIS.
Dr. Christenbury performed the first LASIK procedure in the Carolinas in the early 1990s and since that time has performed more than 100,000 laser vision correction procedures. He performed the first WaveFront Customized IntraLASIK in the Carolinas in 2005. In the Spring of 2005, he was the first in the Carolinas to perform the ReSTOR procedure that treats Presbyopia and can eliminate reading glasses and bifocals. Today, Dr. Christenbury is the most experienced multifocal implant surgeon in the United States.
Dr. Kenneth Mathys is a Board-Certified, fellowship-trained Cornea and Refractive surgeon. He earned his medical degree at Case Western Reserve University. He completed an ophthalmology residency at the University of North Carolina at Chapel Hill where he was honored with the position of Chief Resident. Upon completion of residency, Dr. Mathys continued his ophthalmic training as a Cornea and Refractive surgical fellow at Piedmont Hospital in Atlanta, GA. Dr. Mathys is a member of the American Academy of Ophthalmology and the American Society of Cataract and Refractive Surgery.
About The Salvation Army of Greater Charlotte
Serving Mecklenburg and Union counties since 1904, The Salvation Army of Greater Charlotte is prepared to meet the needs of the community with 15 centers of service and five Family Stores providing services ranging from homeless sheltering at the Center of Hope, youth programming at eight Salvation Army Boys & Girls Clubs, addiction treatment at the Salvation Army Adult Rehabilitation Center and emergency disaster relief. For more information, please visit http://www.salvationarmycharlotte.org.