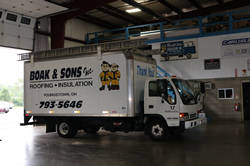 Sam Boak says,"...The world is an uncertain place, but we're able to make it more stable for some members of our team and small acts can make a big impact right here in our community."
AUSTINTOWN, Ohio (PRWEB) January 30, 2019
During the winter months, Ohio roofing contractors are often dependent on unemployment because commercial and residential roofing services cannot be completed. Sam Boak gives his employees, who do not qualify for unemployment, opportunities to work when snow and ice shut down jobsites.
In the last two weeks, Ohio has seen its fair share of intense winter weather. With storms delivering 12+ inches of snow followed by arctic temperatures and high winds, Ohio roofing contractors are unable to work. "We get calls for roofing work and maintenance in the winter when the roof is covered in ice and snow," Residential Roofing Supervisor, Bill Green said. "There is just no way to preform our job safely this time of year. We cannot sacrifice our standard of safety and unfortunately that means our employees are not working at the same capacity."
To receive unemployment in Ohio, employees must meet certain requirements set by the state. If a Boak & Sons employee does not meet the qualifications, they will be set up with an alternative type of work.
"Winter can be a difficult time of year for some of our seasonal employees who have to wait for the weather to break for work to resume," Sam Boak says, "There are many opportunities to work around the warehouse, so they have money in their wallet and food on their table. While this is something we have always done as a company, I feel more blessed than ever this year to offer steady employment through Boak & Sons. The world is an uncertain place, but we're able to make it more stable for some members of our team and small acts can make a big impact right here in our community."
The slow season allows time for the warehouse to be thoroughly cleaned and organized in preparation for exterior contracting work resuming in the spring. Equipment is inspected and maintenance is performed, the warehouse is cleaned and organized, and the trucks are washed and checked for preventive maintenance as well.
When the weather clears, between March and April, the winter preparation will ensure Boak & Sons is ready to take on new jobs immediately. As a provider of commercial and residential roofing, gutters, and siding, this means lots of exterior work that's weather dependent. Boak & Sons is also a commercial and residential insulation contractor. For more information about Sam Boak or Boak & Sons, please contact Kellie Daley direct at 330-793-5646 or kdaley(at)boakandsons.com.
# # #
About Boak & Sons:
Boak & Sons, Inc. was founded by Sam Boak in 1974 as an insulation contractor. With the high energy costs of the 70's, Boak & Sons expanded early on into the roofing business. They offered economical roof installations through cutting edge technology and equipment, allowing customers to recoup even more in energy savings. Today, Boak & Sons is a residential and commercial contractor for roofing, insulation, sheet metal, windows, siding, and gutters. Based in Youngstown, Ohio, the company serves customers in surrounding areas from Cleveland to Pittsburgh. For more information on Boak & Sons, visit their website at: https://www.boakandsons.com/