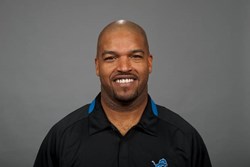 Parents have to know what is going on out on the field....Shockbox does that.
Farmington Hills, MI (PRWEB) September 30, 2013
Former NFL player and coach Sam Gash has teamed with Impakt Protective, the developers of the Shockbox helmet sensors technology. Gash, who played 12 years in the NFL later coached for the Jets and Lions offense.
"Concussions affected me in a big way," recalls Gash about his NFL career, "my good friend Kevin Turner developed Lou Gehrig's (ALS) ...they say that could have been caused by possibly playing football, but who knows." Gash, now 44 with 3 young kids in local youth football worries about that despite his love for the game. "I'm not coaching NFL anymore but I am coaching my kids, and there is a lot of concern about that"
Gash decided to do something about the lack of reporting of concussions and partnered with local businessman Dennis Lauderback in Novi, MI. As a football coach himself, Lauderback is the Michigan area representative for Shockbox, a new wireless sensor that sends alerts to a sideline iPhone if a head impact is too hard. Lauderback said, "It was an easy decision to get involved with Shockbox and Sam (Gash) to provide information to parents about their kids' heads."
Shockbox is made by Impakt Protective, a developer of smart sports sensors and the creator of the first helmet sensors for the Marines and Army to record roadside IED blasts in Iraq and Afghanistan in 2006. The tiny 0.7oz bluetooth sensors have been in use around the world in hockey, football, lacrosse and snow sports since 2011 and spawned a growing desire for affordable data about repeated head impacts.
"(Pro) Football players are paid to do what they do," says Gash, "but parents have to know what is going on out on the field." Gash's new partner Lauderback has seen rapid growth for the miniature sensors that last for 500 hours on every charge. "Shockbox essentially keeps a count of the hits to the head."
For now Sam Gash has a Shockbox on each of his 3 kids' heads during games and practices while Lauderback is crossing the State to spread the message about head impacts and concussion awareness.
About Impakt Protective Inc.
Incorporated in 2010, Impakt Protective is a privately owned high‐tech sensor company located in Ottawa, Canada and the creation of Danny Crossman and Scott Clark. Danny Crossman, a former Army bomb disposal officer and Business Development executive, led the development of numerous life‐saving technologies such as the bomb suit, featured in the movie The Hurt Locker; Advanced Combat Helmet impact pads; roadside bomb jammers used by the USMC and recently the Helmet Impact Sensors used by US Army and USMC to monitor mTBI in deployed soldiers and marines. Scott Clark is an active hockey player, coach as well as hockey Dad, and a former software high tech executive with experience in Program Management, Business Intelligence and Operations.