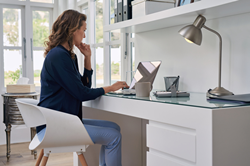 "True transformation takes continued effort. Our aim is to provide our guests with the optimal space, tools and resources to support their transformation. This is why Samahita exists in the first place." - Anthea, Senior Health Coach.
KOH SAMUI, Thailand (PRWEB) May 09, 2019
To support guests with transitioning back to daily life after their retreat stay, and to empower them to integrate what they've learnt, Samahita Retreat launches a progressive new health coaching program. A combination of one-to-one phone coaching plus email support, guests who choose to enhance their retreat experience are supported for an additional three months after they return home from Thailand.
According to The American Society of Training & Development you have a 65% chance of completing a goal if you make a commitment on it to someone else. Chances of success increase up to 95% if you have an accountability appointment with that person.
These statistics together with guest feedback over the years about their desire to integrate their retreat experience with their daily lives, inspired Samahita to create this next-level coaching program. The center is known for its repeat customers and creating a community that call it their second home, a home they return to regularly for an annual retreat, fitness holiday, yoga training or wellness program.
Retreat programs that run throughout the year include Samahita's signature YogaCoreCycle program, a blend of yoga and meditative practices such as breath work, with core and cardio classes. YogaCoreCycle can also be combined with a Detox or Weight Loss program, massage therapies for a Total Self-Care experience or a Brain Health Upgrade, Samahita's latest wellness program. Any of these programs, or a scheduled retreat can be enhanced by the health coaching at home program.
Samahita's guests come from all over the world, many coming with a strong intention to take care of and even transform their health. The aim of the coaching program is to support that commitment even further by offering additional resources and guidance.