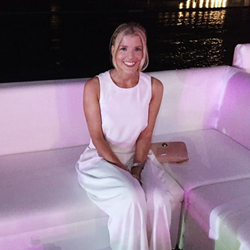 Now I can see perfectly. Why would anyone wear glasses?
Charlotte, NC (PRWEB) May 04, 2016
Francesca Loparco, Co-Founder of Queen City Dream Cars, an exotic car rental business in Charlotte, N.C., changed her life forever with a same-day LASIK procedure at Christenbury Eye Center. The entrepreneur struggled with her computer, riding horses and driving due to poor eyesight. Dr. Jonathan Christenbury performed her surgery the same day as her in-office consultation and eye exam. Francesca's eyesight was restored to 20/20 in both eyes.
As the busy owner of a new and growing business, Francesca was thrilled about same-day surgery. She was very excited to be in and out in one day, making getting back to work even faster. Her need to see her computer at work and the ability to read street signs made this procedure a necessity. Francesca, also an avid horse jumper, says she was concerned about readjusting to the jump heights and distances. However, she could see so well after her procedure that the transition was simple and provided great improvement.
"I had premature lines around my eyes from squinting all the time," says Francesca Loparco, patient at Christenbury Eye Center. She says, "They're [Dr. Christenbury and Staff] all so professional and efficient and yet they seem like family and made me feel so comfortable. And wow; I get the doctor whose name is on the wall. Now I can see perfectly. Why would anyone wear glasses?"
Dr. Christenbury brought same-day consultation and LASIK to the Christenbury Eye Center several years ago, and called it Vision Today™. Vision Today is ideal for our busy patients, patients from out of town or patients who simply want the convenience of Vision Today. Patients simply schedule the consultation, leave their contacts out for one week prior and bring a driver to their free comprehensive exam. Then, if Dr. Christenbury finds them to be a LASIK candidate, they can receive a same-day LASIK procedure. With a 95% success rate of patients experiencing 20/20 vision, and Vision Today, patients could not be happier.
"People are busy and want to get back to their jobs and families as quickly as possible," says Dr. Jonathan Christenbury, Medical Director at Christenbury Eye Center. "Changing our internal process was a challenge, but worth the effort. Our staff and I are very proud to offer this much-needed service to our patients."
If you would like to see if you qualify for a same-day LASIK surgery, contact Christenbury Eye Center at (877) 702-2020 or visit the Christenbury Eye Center website.
About the Christenbury Eye Center
Dr. Jonathan Christenbury established Christenbury Eye Center in 1987 and is known for his groundbreaking work in vision care. For two decades he has consistently been one of the first surgeons in the Carolinas to perform many pioneering vision care procedures including LASIK, Visian ICL and TECNIS.
Dr. Christenbury performed the first LASIK procedure in the Carolinas in the early 1990s and since that time has performed more than 100,000 laser vision correction procedures. He performed the first WaveFront Customized IntraLASIK in the Carolinas in 2005. In the Spring of 2005, he was the first in the Carolinas to perform the ReSTOR procedure that treats Presbyopia and can eliminate reading glasses and bifocals. Today, Dr. Christenbury is the most experienced multifocal implant surgeon in the United States.
Dr. Kenneth Mathys is a Board-Certified, fellowship-trained Cornea and Refractive surgeon. He earned his medical degree at Case Western Reserve University. He completed an ophthalmology residency at the University of North Carolina at Chapel Hill where he was honored with the position of Chief Resident. Upon completion of residency, Dr. Mathys continued his ophthalmic training as a Cornea and Refractive surgical fellow at Piedmont Hospital in Atlanta, GA. Dr. Mathys is a member of the American Academy of Ophthalmology and the American Society of Cataract and Refractive Surgery.