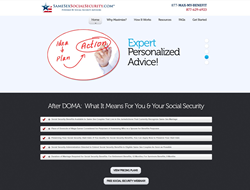 We built www.SameSexSocialSecurity.com to help same-sex couples maximize their Social Security and make sure they receive the benefits they deserve.
New York, NY (PRWEB) April 09, 2015
Social Security Advisors, a New York-based financial and technology company that helps its clients maximize their Social Security, is pleased to announce the launch of http://www.SameSexSocialSecurity.com, a service that helps same-sex baby boomers nationwide decide when and how to file for Social Security to maximize their benefits.
According to the National Resource Center, an estimated 1.5 million adults age 65+ are lesbian, gay, or bisexual. "With the Supreme Court decision that struck down key parts of the Defense of Marriage Act, important Social Security spousal and survivor benefits are now available to many same-sex couples, however, with 2,728 rules involved, sorting out which options are best for your specific situation is complex" notes Matthew Allen, Co-Founder & Co-CEO of Social Security Advisors. "We built http://www.SameSexSocialSecurity.com to help these couples easily identify their best Social Security strategy and guide them through the Social Security decisions that they face. Visitors can simply use the software online or they can choose to speak to a Social Security Advisor that can provide them with further expert assistance," said Allen.
On June 26, 2013, the Supreme Court ruled Section 3 of the Defense of Marriage Act (DOMA) unconstitutional. Therefore, Social Security no longer is prevented from recognizing same-sex marriages to determine entitlement or payment amount.
This latest policy development lets the agency recognize some non-marital legal relationships as marriages for determining entitlement to benefits. These instructions also allow Social Security to begin processing many claims in states that do not recognize same-sex marriages or non-marital legal relationships.
"As a company, we are fully-committed to helping all eligible couples obtain the Social Security benefits that have earned. The DOMA ruling takes this a step further and we are enthused to be able to help so many same-sex couples that to-date, have been denied benefits that they are legally entitled to" said Catherine Hormats, Co-Founder & Co-CEO of Social Security Advisors.
By failing to use Social Security strategies that are available to them, the average couple misses out on roughly $120,000 in lifetime Social Security benefits according to industry research as well as the company's website. "For many, the difference between having a Social Security strategy and not having one can be the difference between a comfortable retirement and one that is much more financially challenging" according to Hormats.
###
About Social Security Advisors
Social Security Advisors is an innovative financial and technology company with a single mission: to help its clients maximize their social security benefits.
Social Security Advisors leverages expert knowledge to increase clients' Social Security benefits and simplify the complex choices that retirees face. The company delivers customized Social Security advice through our online software at http://www.socialsecurityadvisors.com and through our highly-trained team of Social Security specialists. Clients receive a Maximum Social Security Strategy customized exclusively for them that explains exactly when and how to file for Social Security to maximize their benefits, plus expert advice and recommendations from their dedicated Social Security Advisor.
For our Press and Media Kit, please visit http://socialsecurityadvisors.com/presskit.pdf
Contact
To learn more about us, please contact
Matthew Allen, Co-Founder & Co-CEO
244 Madison Avenue, Suite 800
New York, NY 10016
Office: (877)-629-6923 x8
press(at)socialsecurityadvisors(dot)com
Resources:
http://www.lgbtagingcenter.org/resources/resource.cfm?r=28#sthash.0WR6jZ2B.dpuf