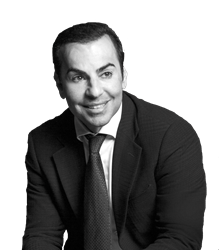 "This event is a celebration of our 25 years of service and is a way to give back to everyone who entrusted Team McDadi with their real estate needs" - Sam McDadi
Mississauga, Ontario (PRWEB) November 23, 2014
On Wednesday November 26th at 6 p.m. Sam McDadi Real Estate Inc. will be hosting a Client Appreciation Car Draw at the Mississauga Convention Centre, 75 Derry Rd W, Mississauga ON L5W 1G3, 905-564-1920.
This wonderful night of celebration will include special guests, valued clients, friends, and family. NHL Hall of Famers Johnny Bower and Marcel Dionne will be joined by Toronto Maple Leaf greats Wilf Paiement, Gary Leeman, and Bill Derlago. All will be on hand signing hockey pucks for our guests. Mississauga Mayor elect, Bonnie Crombie, will also attend as well as Miss America Latina Canada, Ninela Carolina Sanchez.
The evening's entertainment will feature music and performances from some of this City's great musicians including: Dr. Alvin Tung, classical guitarist and Team McDadi real estate professional; Team McDadi graphic artist, Carla Casanova and her band Latintrain; Grady Johnny, son of Team McDadi real estate professional Sean Johnny; and five-year-old superstar in the making, Roberta Battaglia.
"This event is a celebration of our 25 years of service," states Sam McDadi. "It is a way to give back to everyone who has entrusted Team McDadi with their real estate needs over the years, and a way to extend our gratitude. It truly is our pleasure to serve our clients as best as we can."
The highlight of the night is the car draw itself. Along with an assortment of other prizes, two brand-new Acura ILX's, acquired through Acura of Oakville and Erin Mills Acura, will be won. One stunning vehicle will go to a 2014 Team McDadi client and one will go to a client who bought or sold with Team McDadi anytime before Dec. 31, 2013 with no requirement to have participated in any recent transactions.
ABOUT SAM MCDADI REAL ESTATE INC. BROKERAGE:
Before starting his own brokerage, Sam McDadi and his team won almost every conceivable award a Mississauga real estate professional can obtain. With an extensive business background and having earned an M.B.A, Sam has been the top full service Realtor® in the Greater Toronto Area for the past three years. He and his team have sold over 7,800 homes and achieved over $3 billion dollars in sales. (Current Career Sales - both Independent and with Team 1988-2014.) In 2013 Sam and his team set yet another Toronto Real Estate Board record (eclipsing his previous record set in 2012) by assisting over 600 families with their real estate needs and generating over $400 million dollars of real estate sales.* (*Based on ReDatum stats plus exclusive sales 2013, both independent and with team). Sam was also honoured as one of the top Realtors® in the world, receiving the prestigious 'Pinnacle Award' two years in a row. Sam is also the author of two books; "Making Sense of Real Estate" and "My Collected Thoughts on Real Estate."