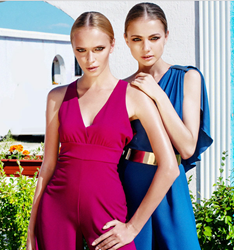 Online Fashion E-Retailer Offers Special Discounts to Students
(PRWEB) March 23, 2017
Although students are not a large part of its customer group, Sammydress does its best to lend a helping hand for them. This oversea online fashion retailer, with customers all over the world, offered a 10 percent savings to students since last July. And now, the rate goes up to 12 percent.
For additional information about the Sammydress student discount program, visit http://www.sammydress.com/studentdiscount.
The discount applies to any student in the US and United Kingdom. Students must first register at Student Beans (http://www.studentbeans.com), a UK-based social media platform for youngsters and adolescents. At Student Beans, they are required to provide the school's e-mail, university name and other related information.
Students can then access http://www.studentbeans.com/student-discount/uk/sammy-dress and receive special codes that enable them to receive discounts.
"Students generally don't have a lot of money to spend on clothing so we're trying to give them a hand and offer some discounts on our already low prices," said Lucy Wang, marketing director for Sammydress. "After the student discounts were introduced last year, we saw our sales to this group jump by more than 25 percent.
"So we're increasing our customer base and the students are receiving great deals on fashionable clothing. Based on our success with this program, we're looking into offering a student discount to other countries and maybe even increasing the amount of savings."
"We've seen how many students are taking advantage their program. It will be good for the students and good for us."
ZAFUL, a sister company of Sammydress, is also considering student discounts and is currently negotiating with Student Beans and UNiDAYS, a student organization the US. "We are hoping to launch a student discount program that is comparable to the one that Sammydress is currently running," said Gerhard Liu, ZAFUL's channel manager.
About Sammydress:
Sammydress is an international online fashion wear marketplace that offers excellent quality at discount prices. The company offers the latest styles in women's and men's clothing and shoes. Sammydress also sells handbags, accessories, jewelry, Iingerie, wigs, toys and lifestyle products. Over the past year, Sammydress ramped up its marketing activities by setting up its own photography team, hiring foreign models and expanding advertising efforts to reach more international customers.
The company also took major steps to address the issue of size confusion, especially in the UK and US. Asian sizes can vary from those in other parts of the world. Sammydress has developed and refined a size chart that enables overseas customers to convert their domestic sizes to Asian sizes.
For further information, see http://www.sammydress.com.
Contact:
Name: Penny
Email: news(at)sammydress(dot)com
Website: http://www.sammydress.com
http://www.sammydressreviews.com