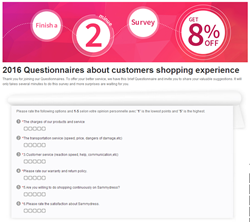 Company looks to update site with customer feedback and excited to kick off Christmas season with huge sales
Shenzhen, China (PRWEB) November 09, 2016
When it comes to trendy clothing at factory direct prices, no one beats Sammydress. The fashion e-commerce site has been designed to sell products to all people, genders, orientations, sizes, and more. Sammydress prides itself on carrying one of the largest product inventories in the fashion e-commerce world. The company looks to attract customers by selling products at affordable prices, below industry standards while keeping quality control standards above its peers. This results in Sammydress having premium products that everyone can afford. The company is constantly looking to better serve its customers; with this in mind the company is proud to announce a new method in collecting customer feedback, questionnaires. The new customer survey function will help Sammydress better understand what customers want and this will be used to make proper updates and changes to the way Sammydress runs its site and business.
To remain profitable, Sammydress constantly needs to retain existing customers and bring new customers in. Unhappy customers give Sammydress a bad reputation. Sammydress works hard to avoid such circumstances and looking to make sure each individual customer is left happy with all aspects of the Sammydress experience. Today the company is launching a new questionnaire survey which will be available to all the customers. The customer survey will provide Sammydress executives precise information on user experience and this will be used to help mediate further problems for the rest of the shoppers.
The Sammydress customer questionnaire will have six categories: 1. Price of products and services, 2. Logistics and shipping, 3. Customer Service, 4. Refund and exchange policies, 5. Repeated purchase and satisfaction, 6. Advice and suggestions. Responses to each section will be forwarded to specific departments at Sammydress along with the executive committee. Those who provide their time in answering questions in the customer surveys will be rewarded with an 8% off coupon on their next purchase.
Current customer feedback has asked Sammydress to get involved with the November Christmas promotions. Sammydress has actually been planning its own "Super November Sale" to go along with Black Friday promotions. Unlike other November promotions, the Super November Sale will provide 4 stages of promotion and have products up to 80% off. This sale will be longer and give customers more time to shop.
Customers are encouraged to check out Sammydress now for the latest in trendy fashion, customers who still cannot find what they want should check out Sammydress sister sites Rosegal and Zaful for their exclusive product lines.
Related link: http://www.sammydress.com/m-article-id-102.htm