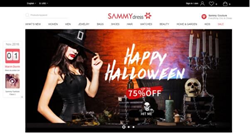 New homepage makes it easier than ever to find the latest deals and view authentic product photos.
Shenzhen, China (PRWEB) November 01, 2016
Sammydress touts itself as holding one of the largest fashion catalogs in the world, selling the latest fashions and accessories for men and women. With there being something for everyone Sammydress has grown to have one of the largest user bases on the fashion e-commerce scene. On top of the large selection of products customers love Sammydress because the website offers high quality items that go through extensive quality control checks and affordable pricing.
Sammydress can stay profitable by selling many products at a low price, rather than a few products at a high price. This means that customer satisfaction and retention is key for Sammydress' business model. One issue customers have brought up is the ease to navigate the homepage. Many customers are looking for what is going on during specific dates, current promotions, and even authentic images of products when they go to the main page. Sammydress is proud to announce these changes have been put on the site and are live now.
Sammydress is constantly updating its deals and promotions, each day something new is going on. This can make the website exciting to use, however, customers can often feel overwhelmed keeping up. To make things easier Sammydress has introduced a new Calendar feature in the top left of the page. The new Calendar feature lists the date and any special promotions going on during that day. Customers can click on the deals within the calendar feature to be taken directly to current promotions.
The middle banner of the Sammydress page is currently dedicated to the companies "Come to Vote" sale. This promotion is based on the upcoming U.S presidential election, with specialty items being selected by staff. Products are up to 70% off. The new banner in the middle of the homepage makes it easy to get to this promotional page saving customers time and giving them more time to shop.
The bottom of the homepage is dedicated to product information. Here Sammydress will add real videos of models wearing Sammydress products. The videos show the true nature of the Sammydress product and give customers a feel for the true look and feel of the product.
Customers are invited to check out the new Sammydress website today. Customers who like what they see should also check out Sammydress sister sites Zaful and Rosegal. Both sites offer their own take at the latest fashions at affordable prices.