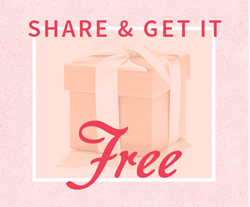 Customers now have even more incentive to shop and share products at Sammydress.
Shenzhen, China (PRWEB) September 07, 2016
Sammydress has fostered itself as being one of the top fashion e-commerce sites on the internet. The company is known for its extensive range of dresses for women. The company prides itself on working directly with manufacturers to get the lowest prices while giving customers standards seen at world renowned designer brands. The mix of price and quality have created a huge backing for the company and today Sammydress is looking to give back to its loyal customers with a new "Share and Get it Free Program". Customers who now share products are now going to get rewards, including the opportunity for no-cost products.
New and even old customers can take advantage of the new program. Customers simply need to log into Sammydress and shop as they normally do. Once they see a product they like and may want to get at no cost, they can hit the "Share and Get it Free" button right on the product page. If a customer gets another person to register and buy the product they will get a chance to win different prizes. Once the other person has ordered the product and received it, the person who shared will get to spin a wheel for a prize. Prizes include getting the product at no cost, 100 Sammydress points, 50 Sammydress points, $2 off, or 10% off. Every person has one spin and the odds are the customer will win some prize. Each share resulting in a purchase will give one spin. The person who signs up to Sammydress and orders the product will receive a $50 coupon. Any item can be shared, but higher priced items will need to be shared more to get a chance at landing them at no cost. Items from $0 to $20 will only need one share and purchase, $20.01 to $40 will need 3 shares and purchases, and all products over $40.01 will need 4 shares and purchases.
To protect the integrity of the contest Sammydress has elected to not award spins or $50 coupons until a product has shipped and the return period has expired. This ensures that only real buyers are buying the products and that people who return products are not rewarded with no-cost Sammydress credit. By playing by these rules, Sammydress hopes to foster a fun and fair environment for all users and the company.
SammyDress is a subsidiary of Globalegrow, like Zaful and Rosegal. Those looking for specific niche products should check out either of these sites.
Related links:
http://www.sammydress.com/
http://www.sammydress.com/m-promotion-active-147.html
http://user.sammydress.com/m-users-a-makemoney_learn.htm'%7D
Email:
support(at)sammydress(dot)com