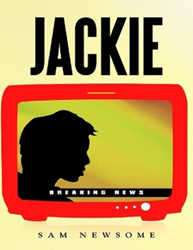 "Even the most disadvantaged of us may have unfound abilities," Newsome says. "Ignored, these talents lay dormant and wither. When discovered and fostered, they can lead to amazing outcomes."
KING, N.C. (PRWEB) October 08, 2014
A young man born to misfortune discovers a secret ability and enormous untapped potential in the novel "Jackie" (published by Lulu) by Sam Newsome, who is doing a new marketing push for the 2013 publication.
As a child, Jackie is labeled as mentally challenged. He is bullied at school and abused at home. Deemed uneducable, he is kicked out of school in the third grade. Thirteen years later he is reunited with one of his old bullies, Jimmie. A friendship is fostered and Jimmie helps Jackie discover a hidden talent. Friendship, luck and Jackie's special talent are the springboard that propels him on a journey to fulfill his destiny.
"Even the most disadvantaged of us may have unfound abilities," Newsome says. "Ignored, these talents lay dormant and wither. When discovered and fostered, they can lead to amazing outcomes."
"Jackie" deals with serious issues in a humorous manner. The inspirational story of an unexpected hero defying odds and achieving fame and good fortune shows the positive resolution that can come when a person struggles, evolves, interacts and, ultimately, grows.
"I tried to make the story of a disadvantaged child continually positive," Newsome says. "A positive or a humorous scene minimizes any depressing moment as soon as possible. I want to entertain the reader and give a positive feeling after reading the book."
More information is available at http://www.jackiebysnewsome.com.
"Jackie"
By Sam Newsome
Softcover | 6 x 9 in | 264 pages | ISBN 9781483403236
E-Book | 264 pages | ISBN 9781483403229
Available at Amazon and Barnes & Noble
About the Author
Sam Newsome is a physician in rural North Carolina. His 35 years of practice have allowed him to hear a treasure trove of stories and hone his own storytelling abilities.
Lulu empowers people of all ages to explore and express their interests, passions and expertise through books, photography and art. Since introducing self-publishing in 2002, Lulu has empowered creators in more than 225 countries and territories to produce nearly two million publications. Lulu Jr. allows children to become published authors, encouraging creativity, strengthening literacy and building self-esteem. Picture.com offers professional photography of collegiate and professional sports, memorable and historic events, fine art and home décor. For more information, please visit http://www.lulu.com.