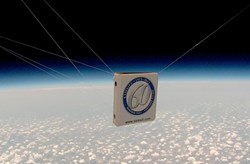 Fort Worth, Texas (PRWEB) October 30, 2013
Samsill honors its past and celebrates its bright future by partnering with the Texas A&M High Altitude Balloon Club to send the first custom three-ring binder into near space. Video cameras recorded the entire trip as the weather balloon rig and binder ascended to over 96,000 feet and returned safely to Earth. The binder was launched from College Station, Texas on a rig specifically designed for this project by Texas A&M HABC.
Filled with over 300 cubic feet of helium, the massive weather balloon lifted the rig and binder into the stratosphere. It took two and a half hours to reach an altitude over 96,000 feet. At the end of the short 20-minute fall back to Earth, the rig and binder landed approximately 20 miles from the launch site at a location pinpointed with the help of GPS. The recovery took over four hours and required an intense trek through heavily wooded areas and flooded fields but the binder was found intact swinging from tree branches.
The video of the launch can be viewed here.
Samsill plans to focus on the company's future role as leader in innovative product solutions and customer satisfaction. Widely regarded as a highly innovative company, Samsill has consistently been the first to market with several products including the patented curved back DXL binders, antimicrobial protected binders, biodegradable binders, 5" round ring and 6" D-ring binder, and the patent pending time saving Speedy Spine binder. It's the company's goal to bolster its status and push for growth by significantly expanding its product offering and sales channels.
Additionally, Samsill manufactures all of its binders in Fort Worth, Texas and has over 600 different stock binders to choose from. Samsill is also proud to offer several custom options including screen printed binders in 34 different colors and endless ink options. The sky is the limit for custom binders from Samsill.
About Samsill Corporation
Samsill Corporation is one of the world's largest independently owned manufacturers of ring binders, business accessories, laptop cases, media storage, and sheet protectors. With corporate offices and manufacturing facilities in Fort Worth, TX, Samsill has grown from a small family business to an international corporation serving the office products, consumer electronics, and education markets. For more information, please visit http://www.samsill.com.