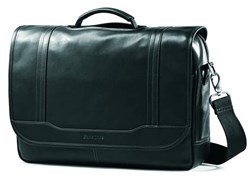 Samsonite is one of the best manufacturers around the world, known for their quality briefcases and timeless designs. We are thrilled to carry another industry leader.
Los Angeles, CA (PRWEB) February 18, 2014
Rapidly expanding online retailer GotBriefCases.com is the go-to place for latest and greatest business and travel bags like the rugged and durable Colombian Leather Flapover briefcase by Samsonite, the leading luggage manufacturer in the world. Taking the company name from the biblical strongman Samson, Samsonite briefcases are the top selling briefcases and luggage in the United States, Europe and Japan. Built to tackle long days of travel and years of work, the Samsonite Flapover Briefcase is made from elegantly crafted Colombian leather for durability: perfect for the hardworking businessman. Complete with a main padded compartment large enough to fit a 15.6" laptop, a pocket for an iPad or tablet, zipped pockets for documents and files, and smaller pockets for pens and accessories, the Samsonite Colombian Leather Flapover Briefcase is a hot commodity for any man or woman at an economically phenomenal price.
Many business professionals look for dependable leather briefcases when carrying essential documents and precious accessories. GotBriefcases.com is invested in providing the best of the best when it comes to business and travel bags, which is why they are proud to promote Samsonite briefcases. Samsonite was founded in Denver, Colorado in 1910 by Jesse Shwayder with the notion of building strong luggage for travelers. Since then, Samsonite has announced over a hundred years of quality-built stylish and innovative products. Samsonite briefcases are the industry standard for travel, perfecting the art of building the highest quality products.
GotBriefcases.com founder and CEO, Vahram Tovmasyan, said, "Samsonite is one of the best manufacturers around the world, known for their quality briefcases and timeless designs. We are thrilled to carry another industry leader". The Samsonite Colombian Leather Flapover briefcase is recognized for its soft but impervious leather and its spacious yet slim design. Being highly reviewed on Amazon, eBay, and other online retail sites, it features a SmartStrap, which slides over upright luggage handles for easy and convenient mobility when traveling with multiple luggage bags. It also includes an adjustable and removable shoulder strap for a messenger bag or hand accessible briefcase look, customizable for anyone.
GotBriefCases.com is pleased to present the best of the Samsonite line, appealing to a wide variety of audiences from business professionals to students, teachers, and travelers. GotBriefCases.com is proud to provide the best customer service in luggage and briefcases from the best manufacturers around the world. Being a top rated seller on eBay and having multiple positive reviews on Amazon, GotBriefCases.com guarantees the best online shopping experience in an emerging online market. Tovmasyan said, "We offer a premium customer buying experience, from fast shipping times to excellent customer service, gotbriefcases.com cares." To find out more about the Samsonite Colombian Leather Briefcase as well as Got Briefcases abundant selection of men and women's luggage, briefcases, backpacks, and accessories visit their website at http://www.gotbriefcases.com.