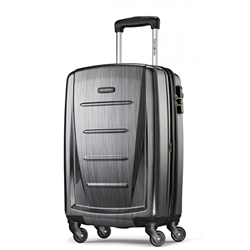 The shell material is made of injection molded 100 percent polycarbonate, a highly impact-resistant plastic that is strong and lightweight.
Los Angeles, CA (PRWEB) April 17, 2014
Trendsetting e-store GotBriefcases.com, the place to go for an incredible range of luggage and briefcases, is now featuring the iconic global brand Samsonite.
With over 100 years of experience, Samsonite continues to be an industry leader setting the standard in quality bags and making the brand a top choice among travelers, business professionals, and students.
Founded in Denver, Colorado in 1910 by Jesse Shwayder its product names derive from Samson, the biblical strongman. Samsonite suitcases and travel bags are crafted with the goal of being the most robust suitcases, luggage sets and briefcases in the world.
One of the best-selling items is the Samsonite Winfield 2 Fashion 20 inch Carry On Spinner Luggage.
Four multidirectional spinner wheels effortlessly allow 360 degree upright rolling in multiple directions so there is no weight on your arm. The shell material is made of injection molded 100 percent polycarbonate, a highly impact-resistant plastic that is strong and lightweight. It's made to absorb impact by flexing under stress, then popping back to its original shape.
The carry-on luggage has a TSA Lock which provides additional peace of mind when checking belongings, as the case can be locked but still easily accessed by TSA agents if it needs to be searched. The case has full-zip interior divider with organization pockets and beautiful brush-stroke coloration which is great for hiding any potential scratches or scuffs from your journeys. The 20.0" x 13.5" x 9.5" carry-on weighs just 6.7 lbs.
GotBriefCases.com founder and CEO, Vahran Tovmasyan, said, "Samsonite has set an industry precedence by perfecting and innovating luggage, casual bags, backpacks, travel accessories, and now electronics carriers and laptop bags. Over 100 years of reliability, durability, style and innovative functionality have made Samsonite's iconic products, and brand, the global leader they are today. If you are going to head out the door, do it with peace of mind with Samsonite suitcases and carry-ons."
Tovmaysan launched GotBriefCases.com in 2009 at a time when he had no prior experience in ecommerce and didn't even speak English. A friend gave him the idea and helped create the website. Tovmaysan rolled up his sleeves, learned English and began contacting manufacturers.
Today, the online retailer carries more than 50 brands and over 5,000 products in a multitude of different colors. In addition to Samsonite, brands include other household names such as Hartmann Luggage, Zero Halliburton's business collections, TravelPro Luggage, and Kenneth Cole bags.
GotBriefCases.com appeals to a wide audience including professionals such as attorneys, CPAs, businessmen and women, and teachers, as well as travelers and students.
Tovmasyan said, "We are proud of the fact that we deliver premier customer service and very fast shipping times not only for the Samsonite line but also for all of our briefcases for men and women, messenger bags for men and women, and many other accessories. We are the top-rated seller on eBay with almost 2,300 positive reviews and 98 percent positive feedback on Amazon. We deliver the same impeccable service to my gotbriefcases.com customers and at very affordable prices."
To find out more about the Samsonite line as well as Got BriefCases' wide selection of other products including leather briefcases, men's canvas briefcases, laptop cases, computer bags, messenger bags and backpacks, visit their website at http://www.gotbriefcases.com.