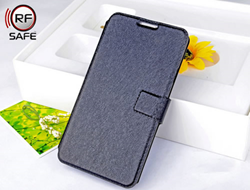 carried your pocket radiant energy is absorbed much faster than at the head because tissues and organs such as liver, kidneys and reproductive organs provide much better conductivity than the skull
San Francisco, CA (PRWEB) April 25, 2014
The all new RF Safe Samsung Galaxy Note 3 cases are not just about improving the look of a cell phone or being an essential accessory for protecting the device.
RF Safe's Flip cover case for the Samsung Galaxy Note 3 protects the most important thing of all, the users health, by reducing the amount of cell phone radiation absorbed in the users head and body.
Most materials are transparent to microwave radiation from cell phones and Smartphone devices and microwave energy is absorbed into a user's body closest to where the cell phone is being carried or used.
John Coates, RF Safe's founder says, "When a phone is used with a heads-free device and the phone is carried your pocket radiant energy is absorbed much faster than at the head because tissues and organs such as liver, kidneys and reproductive organs provide much better conductivity than the skull and simply put most of your body's major organs have no bone protection like the brain does."
The basic requirement of any cell phone radiation shielding is that it is electrically conductive. An example is RF Safe's EMI shielding fabric which is silver plated-metalized woven fabric. This is the preferred technology for RF shielding used in many of RF Safe's products.
Coates said, "RF Safe's flip cover cases only incorporate shielding mechanisms which utilize deflecting, as absorption (attenuation) is never used to prevent affecting the phones software regulating RF power out-put. It's only acceptable to use absorption technologies on wires (Ferrite Beads), such as on an air-tube headset that is plugged into a cell phone, but not on the cell phone headset itself."
RF Safe Flip Cover Case for Samsung Galaxy Note 3
-Specially designed for Samsung Galaxy Note 3
-Provides great protection for Samsung Galaxy Note 3
-Premium hard-shell case has precise cutouts for device
-Full access to all ports and buttons on Samsung Galaxy Note 3
-Magnetic latch to keep flip cover closed
-Adjustable stand with mufti-viewing angles; Perfect for video-chatting and movie-watching
-Slim fit design; 1mm Peel-n-Shield™ Adds Screen Protection
-Currently Available in Black,Pink,White
"RF Safe's 16 yrs of experience in the safest ways to reduce cell phone radiation exposure is only a click or call away," says Coates
For more information about RF Safe's product line for cell phone radiation safety, please visit RF Safe's website at http://www.rfsafe.com or call 1-800-977-9984.#102.
Peel-n-Shield ™ is a Trademark of RF Safe Corporation.
About Radio Frequency Safe RFSAFE.COM
RF Safe is the world's premier provider of cell phone radiation protection accessories and informational data. Since 1998 RF (Radio Frequency) Safe has been dedicated to evolving the wireless industries safety standards, by engaging in the business of design, testing, manufacture, and sale of safety technologies to mitigate harmful effects of cell phone radiation.