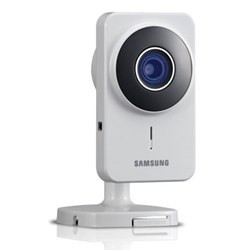 Crop up to nine individual areas from one image and stream them separately, allowing one camera to do the work of several cameras.
Milwaukee, WI (PRWEB) August 28, 2014
Samsung IP cameras offer a unique set of features designed to maximize any surveillance strategy. IP Phone Warehouse is thrilled to announce the availability of Samsung's IP surveillance solutions.
Securing any premises with Samsung's business-ready, IP surveillance solutions is easy. The cameras include incredible advancements, such as:

SSLE (Samsung Super Light Enhancer)
3MP image sensor, recording at 30 fps
WDR (Wide Dynamic Range)
Defog for haze, smog or smoky conditions
DIS (Digital Image Stabilization)
P-Iris to control light input
Multi-crop streaming up to nine areas
Motion, audio and face detection
To improve images, SSLE and WDR can create better images in dimly lit conditions and reduce motion blur. Samsung Super Light Enhancer technology uses a minimal amount of light to produce superb images in dark environments or nighttime. Wide Dynamic Range can make colors more vivid and reduce shadowing, while also clearing up distortion caused by motion.
The 3MP image sensors on select Samsung IP cameras can record video in full HD, at a rate of 30 frames per second. Crop up to nine individual areas from one image and stream them separately, allowing one camera to do the work of several cameras. Image resolutions beyond HD support higher quality cropping.
For outdoor surveillance, the cameras can digitally clean up problems caused by weather elements. The defog function can optimize images that would otherwise be distorted by fog, haze, smoke or other cloud-like occurrences. When the wind is picking up, a camera mounted outdoors might start to rattle. The Digital Image Stabilization lets the camera transmit steady pictures, even though the camera is shaking or vibrating.
See the entire line of Samsung surveillance products here: http://www.ipphone-warehouse.com/Samsung-s/2183.htm. Samsung also produces centralized management, recording and storage solutions. Control the cameras and stream video from nearly anywhere that has access to a web-based interface.
Contact IP Phone Warehouse by phone at (888) 201-9056 or email at service(at)ipphone-warehouse(dot)com. A friendly and knowledgeable pre-sales technical support team is standing by.
About IP Phone Warehouse
IP Phone Warehouse is the leading specialty reseller of VoIP phones, video conferencing equipment, IP surveillance cameras and network devices. We're stocked with everything that small businesses and enterprises need to deploy reliable VoIP and video solutions. A dedicated customer service team and a wide range of available online resources support every product at IP Phone Warehouse.