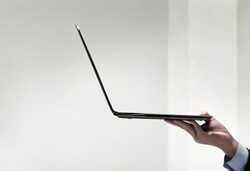 This Is A Professional Sophisticated Laptop
(PRWEB) September 04, 2013
The Samsung Notebook Series 9 has the wow factor of combining style and perfection. Samsung Series 9 is one of the thinnest and lightest laptops or some say notebook computers on the market today. This is a professional sophisticated laptop with an excellent and sexy design. The Samsung Notebook Series 9 is designed to knock your socks off with the objective of overtaking some of the the global market share which is currently being held by Mac Book Air. Samsung Notebook Series 9 does have a similar design as the competition. The idea of both notebooks is to get the computing job done but look hip and cool at the same time.
Samsung seems to want to bring in an evolution in computing technology with elegant designs and a never seen before computing experience. This idea can be seen also in other devices made by Samsung such as Samsung Tab 2. This Samsung notebook device offers absolute ease as well as comfort and speed. The Samsung Notebook Series 9 is very fast as it relates to processing speed. Another way to explain it is that this laptop is sleek, sophisticated, lightweight, sturdy, fast with swells and curves that fits right into the human grip. It has the look and appeal of a super sports car. The Samsung Series 9 allows its users to enjoy quick internet browsing, games, music, videos and HD movies and has a battery life of 7 hours or more.
For those who like to talk tech talk when speaking of new gadgets, here are the specs for the Samsung Notebook Series 9. This laptop is enclosed with light and strong duralumin material. Duralumin is material which is used in advanced aircraft. This material helps to shield and protect Samsung Series 9 thus making it extremely strong at the same time super light making it highly durable and portable at the same time. This sophisticated tech toy has an automatically adjusted back lit keyboards as well as an anti glare LCD display with 16 million colors and unmatched 400-nit brightness. This provides maximum HD videos, 3D games and movies viewing experience. The Samsung Notebook Series 9 has a multiple touch Super Button Click pad with 3D image sensors and 21 gestures support. This 21 gesture support includes swiping, pinching. For better convenience, the Samsung 9 Series have incorporated new Samsung lithium polymer batteries that have a total lifespan of over 7 hours. The battery system also includes power saving techniques with unique charging and sleep options. It offers 1000 charging cycles as well as a total lifespan of 3 years which is about twice the amount of most notebook computers on the market today.
Fard And Company
For more information, visit http://samsungnotebookseries9.com.
For more information, visit http://samsungtab2.org.