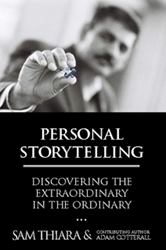 Everyone's life is an autobiography, but you have to make yours worth reading!
North Vancouver, British Columbia (PRWEB) November 04, 2014
Storytelling is one of the oldest forms of communication, and long before the phone, Internet and social media, humans have created thoughtful dialogue with one another. Author, speaker and storyteller Sam Thiara wrote "Personal Storytelling: Discovering the Extraordinary in the Ordinary" (published by Lulu) to help people tell their life story. Sam asks, "What is the last story you lived?"
Sam walks around with a small velvet satchel and as he engages with people, hands them a single jigsaw puzzle piece and, through storytelling, converts the piece from the ordinary to the extraordinary by showing how they are part of his ever growing life puzzle, one person at a time – connecting with people through storytelling.
"After mentoring hundreds and engaging with thousands, I have always told stories," Sam says. "As an accomplished speaker, I have incorporated stories into my messages. My life is filled with stories and I now find that I share them with others to help them in their journey."
Sam helps readers understand how stories are important as a means of sharing experiences with others and how people use them to make sense and purpose of their lives. Organized into four sections, "Personal Storytelling" seeks to help readers unleash their inner story voice through thoughtful questions and refection. He created a simple story development process, CARPE – Curiosity, Appreciation, Reflection, Perspectives and Experiences, that outlines his concept for helping others start laying the foundation to create their own stories. This takes the reader from the everyday and ordinary into the extraordinary.
Praise for "Personal Storytelling":
"Sam Thiara writes as he lives – in great strides and with an open mind and a creative bent that keeps drawing him (and the reader) into escapades that deliver meaning."
—Rick Antonson, former president, CEO, Tourism Vancouver; author, "To Timbuktu for a Haircut," "Route 66 Still Kicks"
"Everyone's life is an autobiography," Thiara says, "but you have to make yours worth reading!"
"Personal Storytelling"
By Sam Thiara
e-Book | ISBN 9780993758119
About the Author
Sam Thiara's passion is to inspire and motivate others in their personal and professional development through his many adventures and reflections on life's journey. Since 2004, he has found his calling at Vancouver's Beedie School of Business at Simon Fraser University in student engagement, community relations and teaching. He consistently strives to discover the extraordinary in the ordinary and his journey is documented at http://www.sam-thiara.com.
Lulu empowers people of all ages to explore and express their interests, passions and expertise through books, photography and art. Since introducing self-publishing in 2002, Lulu has empowered creators in more than 225 countries and territories to produce nearly two million publications. Lulu Jr. allows children to become published authors, encouraging creativity, strengthening literacy and building self-esteem. Picture.com offers professional photography of collegiate and professional sports, memorable and historic events, fine art and home décor. For more information, please visit lulu.com.