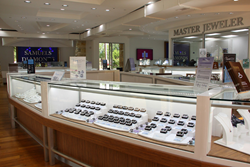 'Our latest flagship store in Sunset Valley signifies a wonderful partnership with an amazing community that has supported our brand and we are honored to preserve much of its heritage with the design of this location.'
Austin, TX (PRWEB) August 05, 2014
Samuels Jewelers, Inc. ("Samuels"), the parent company of Andrews Jewelers, Rogers Jewelers, Samuels Diamonds, and Schubach Jewelers, with locations in 21 states across the country, announces the grand opening of its newest location in Sunset Valley, Texas. The store opened on June 24th, and a ribbon cutting event is planned for Thursday, August 14 at 2:30 PM. See all that is new and register to win a $1,000 shopping spree from noon until 4 pm. Samuels also opened three new locations during the fall of 2013 and remodeled four additional store locations during the first half of 2014.
Remodeled Stores include:

Samuels Jewelers, Chapel Hills Mall, Colorado Springs, CO
Rogers Jewelers, Grand Central Mall, Vienna, WV
Rogers Jewelers, McCain Mall, Little Rock, AR
Samuels Jewelers, Arden Fair Mall, Sacramento, CA
The Sunset Valley location is particularly interesting, as it involved the renovation and conversion of an existing historic farmhouse. Designers carried the nostalgia and original architecture of the farmhouse throughout the renovation. Samuels Diamonds completed the renovation while maintaining the original limestone exterior and added complementary limestone rock features inside. The new design fits in well with Sunset Valley's historical preservation efforts and dedication to focusing on reducing environmental impact. Samuels Diamonds has been developing practices that were eco-friendly for several years, including the use of LED energy efficient lighting in ceilings and display cases. In addition, the new location has bamboo flooring and exposed ductwork that was painted rather than hidden, to reduce the use of excess materials.
"We are proud and excited to continue our growth strategy in the specialty jewelry marketplace," said Steve Velasquez, President and COO of Samuels Jewelers. "Our latest flagship store in Sunset Valley signifies a wonderful partnership with an amazing community that has supported our brand and we are honored to preserve much of its heritage with the design of this location. We look forward to many years of continued success here."
According to store employees, several customers have stopped by to reminisce about playing with childhood friends who either lived in the old farmhouse or who grew up nearby. Many have commented on the fact that they appreciated the company kept the historic oak trees intact, some of which are hundreds of years old.
Samuels Jewelers is where style meets value. Whether it's our bridal, diamond, fashion or men's collections, we design and craft our own jewelry to be unique but affordable, and trendsetting but timeless. And we've been doing so for more than 120 years.
Samuels Jewelers is owned by Gitanjali Gems LTD and has been serving jewelry guests since 1891. Our 123 year diamond tradition began in San Francisco, where Albert Samuels first opened his doors in 1891 and it continues today in more than 100 locations nationwide.