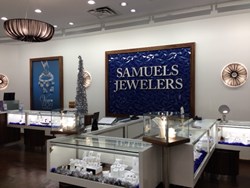 Today, our stores have evolved into an environment that our customers and landlords are extremely excited about.
Austin, TX (PRWEB) November 26, 2013
Samuels Jewelers, Inc. ("Samuels"), one of five brands to include Andrews Jewelers, Rogers Jewelers, Samuels Diamonds, and Schubach Jewelers with locations in 22 states across the country and owned by Gitanjali Gems LTD, announces that the Company plans to open three additional locations and remodel several existing locations just before the start of the holiday shopping season. This follows the company's expansion in 2012 with two new and eight remodeled stores.
New Stores:
•Samuels Jewelers, Central Mall, Port Arthur, TX
•Andrews Jewelers, Ohio Valley Mall, St. Clairsville, OH
•Andrews Jewelers, Sandusky Mall, Sandusky, OH
Remodeled Stores:
•Samuels Jewelers, Post Oak Mall, College Station, TX
•Samuels Jewelers, Oakridge Mall, San Jose, CA
•Rogers Jewelers, Empire Mall, Sioux Falls, SD
"Three years ago, we started leading the jewelry industry with a fresh new design that had never been seen in the likes of any traditional jewelry store," said Michael Feinman, Chief Operating Officer. "Today, our stores have evolved into an environment that our guests and landlords are extremely excited about. These are very exciting times for Samuels as we continue to expand through the USA. We hope guests come see us soon. They should just look for the shiniest store in the mall!"
Samuels continues to focus on remaining green with LED lighting packages that help conserve energy, while creating a bright, new contemporary shopping experience. Designer interior graphics and the sleek new design of display fixtures create a beacon in the mall to guests, inviting them to step inside. The polished stainless steel, solid core laminate, dark walnut hardwood and ultraviolet glazing assembly, along with the high gloss, two-toned designer wood flooring gives the appearance of leather and hardwood combined. This year, they have also added museum display cubes, small, stand-alone units that display specialty merchandise.
About Samuels Jewelers
Samuels Jewelers is where style meets value. Whether it's our bridal, diamond, fashion or men's collections, we design and craft our own jewelry to be unique, but affordable. Trendsetting, but timeless. And we've been doing so for more than 120 years.
Samuels Jewelers has been serving jewelry guests since 1891. Our 120 year diamond tradition began in San Francisco, where Albert Samuels first opened his doors in 1891. The three-story building on Market Street housed 40 jewelers who designed and skillfully created fine jewelry to exacting standards. The entire first floor showcased the results of their master craftsmanship.