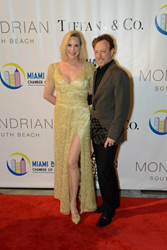 Being selected as one of the distinctive fashion designers of Miami fills me with such pride and satisfaction. I accept this challenge as a grand adventure. This will be a memorable highlight of my career.
Miami, Florida (PRWEB) April 20, 2014
Renown Miami-based fashion designer, Samy Gicherman, is set to showcase his talents and creativity in the Eastern Airlines Uniform Design Contest. Venezuelan-born, Gicherman's career spans three decades, which has propelled him into a successful career with an impressive following, dressing the most prominent Latin America leaders, entertainers, and celebrities. As a couture, ready-to-wear, and bridal gown designer, Samy Gicherman's expertise is extensive, proving credible as the go-to fashion designer among Florida's most influential citizens.
President and founder of Miami Fashion Week, Beth Sobol hand picked eight top Miami based designers to compete in designing uniforms for Eastern Airlines female flight attendants. Gicherman, being a leading fashion designer, is honored to participate and looks forward to the possibility of featuring his original work during Miami Fashion Week.
The outline of the contest requests that the designer produces sketches of their creations accompanied with a mood board. Four outfits are to be designed according to the following: skirt, vest, and blouse, pants, jacket, and blouse, knee length dress, and lastly, an outfit at the designers discretion. Additionally, participants will sketch a futuristic uniform for what flight attendants in the year 2050 would be wearing. Samy Gicherman expresses, "Being selected as one of the distinctive fashion designers of Miami fills me with such pride and satisfaction. I accept this challenge as a grand adventure which will provide me with an unforgettable opportunity. This will be a memorable highlight of my design career." The reputable designer was inspired by colors of the Caribbean throughout the designing process.
On April 21st, 2014, five finalists will be announced based on their submitted mood boards and sketches. If Samy Gicherman is among the finalists, he will present his garments on the runway at Miami Fashion Week on May 15th. The final judging will take place on this day with the winner being announced soon after.
As the potential winner, Gicherman will be granted a three year commitment as the official designer for Eastern Airlines. As the winner, Samy Gicherman's resort collection will proudly be featured in the first EAL on-board magazine and presented on an in-flight fashion show to San Juan, Puerto Rico, which will mark the first inaugural flight. Furthermore, his signature collection will be displayed in the EAL retail store at the Miami International Airport with the opportunity to create branded merchandise for the airline. CBS News will broadcast a special documentary on the airline's re-launch, providing Gicherman with recognition for his outstanding creativity shown through his designs. Lastly, he could receive the position as on call design consultant with an annual retainer of $10,000 for three years.
About Samy Gicherman: Samy Gicherman is an award-winning, internationally renown fashion designer representing the passion and flair of Latin America in each collection. Gicherman has been an anchor designer in Miami Fashion Week for the last four years and recently has acquired the first ever Brand Ambassador role for Miami Fashion Spotlight Blog. In 2014, Samy Gicherman Couture-USA will launch a national expansion effort of his Ready-to-Wear and Bridal, "Novias Couture" collection targeting fine retailers and specialty boutiques. For more information: http://www.samy-gicherman.com. For more information about Samy Gicherman, please contact Jessica Zapatero at 713-894-4040 or email at jessica(at)zb-pr(dot)com.