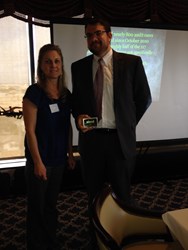 San Antonio, TX (PRWEB) December 18, 2013
On Thursday, December 12 San Antonio immigration attorney Jeff Thomas of The Lozano Law Firm (http://www.abogadolozano.com) presented "Immigration Compliance Best Practice for the Oil and Gas Industry" at a SAPA (San Antonio Pipeliners Association) event that was held at The Petroleum Building in San Antonio, TX.
"I enjoyed presenting at the San Antonio Pipeliners Association event and meeting everyone that attended. These regular SAPA networking events provide a wealth of information for employers in the industry," said Attorney Jeff Thomas.
The presentation focused on the liability that can arise from knowingly and unknowingly employing undocumented workers in the oilfields. It included best practices for complying with immigration regulations in hiring workers and obtaining business visas for professional and low-skilled workers. The information provided in the presentation is important because of the prevalence of undocumented workers in construction and oilfield services industries, and because of the work stoppage, fines, and other penalties that can arise from government investigations of employers suspected of hiring undocumented immigrants. The presentation also included information about obtaining business visas for foreign workers, and on expected changes to the immigration system within the coming years.
The San Antonio Pipeliners Association (http://www.sapipeliners.org) is an organization dedicated to the men and women working in the pipeline and midstream industry that surrounds the Eagle Ford Shale development in South Texas. The organization focuses on issues dealing with the design and construction of transportation infrastructure in moving crude oil and natural gas from drilling locations to an energy hungry world, including truck loading and unloading stations, rail, pipelines crisscrossing the state along with compression and pumping stations, terminals and both above and underground storage facilities. The primary purpose of the San Antonio Pipeliners Association is to provide an opportunity for "peer-to-peer" networking for men and women involved in the pipeline and midstream industries. The Lozano Law Firm is a member of the association, which regularly meets with various presenters on different industry topics.
Attorney Jeff Thomas is a graduate of the University of Minnesota Law School. He started practicing immigration law in law school, and has continued in this field ever since. His legal practice focuses on helping businesses and families obtain visas and lawful permanent residence for employees and family members.
The Lozano Law Firm, PLLC is a San Antonio immigration law firm that was established by Atty. Alfredo Lozano to impart personal attention and cost-effective immigration solutions to clients without the overhead and multi-tiered staffing that are characteristic of larger firms. For more information please visit http://www.abogadolozano.com or visit The Lozano Law Firm, PLLC Facebook page at: https://www.facebook.com/TheLozanoLawFirm.