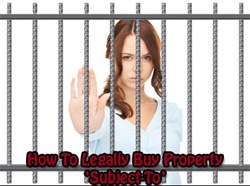 Subject-to is a legal and very profitable no money no credit buying strategy that assists the investor in creating win-win scenarios with all parties involved
San Antonio, Texas (PRWEB) August 27, 2013
The San Antonio Real Estate Investment Association (San Antonio REIA) is meeting this Tuesday, August 27, 2013, from 6-9 p.m. at the Hilton Airport Hotel, located at 611 NW Loop 410. The topic will be 'How to Legally Buy Properties Subject-To in Texas' and will feature Texas Real Estate Attorney Alan Ceshker as its guest speaker. To receive a free ticket to this event, please register here.
Buying properties subject-to is when the investor purchases the property subject-to the existing financing remaining in place. In many cases, this will allow the investor to buy a real estate property with minimal capital investment and no credit risk.
"Subject-to is a legal and very profitable no money no credit buying strategy that assists the investor in creating win-win scenarios with all parties involved," says real estate investor, coach and national speaker Phill Grove. "However, as with every type of contract that involves hundreds of thousands of dollars, you want to make sure that you are doing this legally. This is why we've invited Texas real estate attorney Alan Ceshker to tell you what you can and cannot do in regards to buying subject-to."
To receive a free ticket to this event on Tuesday, August 27, 2013, please register here.
About the Featured Speaker: Since 1991, Alan has provided comprehensive legal services to his clients and achieving real answers for his clients' needs. Rather than pursuing simple legal paths and increasing a client's legal fees, he attempts to seek a path that accomplishes the best business and legal solution for all parties. Alan is licensed to practice in all state courts in Texas and the U.S. District Court, Eastern District of Texas; the U.S. District Court, Northern District of Texas; U.S. District Court, Southern District of Texas; and the U.S. District Court, Western District of Texas. Alan is a member of the American Bar Association, the State Bar of Texas and the Austin Bar Association.