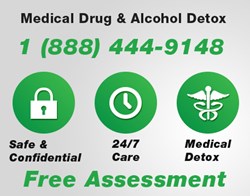 SAN ANTONIO, TX (PRWEB) November 04, 2013
Medical Drug Detox Center in San Antonio is announcing that a new video regarding its services and plans is now available for San Antonio and surrounding cities. Those cities include Live Oak, Balcones Heights, Castroville, New Braunfels, and San Marcos.
Drug detoxification is used to reduce or relieve withdrawal symptoms while helping the addicted individual adjust to living without drug use; drug detoxification is not meant to treat addiction but rather an early step in long-term treatment. Detoxification may be achieved drug free or may use medications as an aspect of treatment. Often drug detoxification and treatment will occur in a community program that lasts several months and takes place in a residential rather than medical center.
Substance abuse problems can turn ordinary people's lives upside down. Alcoholism and drug addiction is a horrid disease that affects the body, mind and spirit. Other drugs like oxycontin, Klonopin, opiates, and cocaine – when taken beyond "normal" levels – destruct whatever kind of lives people have from an emotional and physical standpoint.
Drug addicts and alcoholics who are deep into their addiction will go to any lengths and neighborhoods for their "fix." These drugs also include heroin. It isn't surprising to find out how many streets, roads and miles they have walked or driven simply to feel better and medicate themselves. Making sure that these adults and adolescents understand there are different options and choices for life is important. Sometimes, they are ultimately life-saving ways.
There are prescription drugs, when taken under proper medical supervision, to help the detox process flow better for people. Some of these include Ativan, Buprenorphine, Librium, Methadone, Suboxone, Valium, and Naltrexone. Again, it is suggested to receive help and it is available at Medical Drug Detox Center.
When people attempt to detox from drugs and alcohol on their own, the results are not always successful. Getting the proper help and support for gaining and maintaining long-term sobriety can turn lives around. People discover that recovery is an easier, softer way after going through detox.
Also, there seems to be a misunderstanding in some circles that reaching out for help is a sign of weakness. On the contrary, it is not. This truly becomes a source of strength and shows that an individual is ready to leave his or her substance abuse-filled life in the past.
If you want more information about Medical Drug Detox Center, then visit http://drugdetox.org or pick up your phone and call (888) 444-9148.