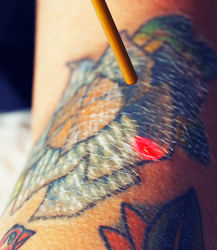 The results we've seen have pushed us to expand Eraser Clinic's services to other regions in Texas.
San Antonio, TX (PRWEB) October 12, 2015
Eraser Clinic Laser Tattoo Removal has expanded its tattoo removal services to San Antonio, Texas, featuring Astanza's Trinity laser system. The specialty clinic opened its first location in Austin, Texas earlier this year, helping people with tattoo regret remove their unwanted tattoos.
"Eraser Clinic is fast establishing itself as the regional leader in safe, effective, and affordable laser tattoo removal," said Nicholas Tys, founder. "The Astanza Trinity has proven to be an essential part of our success in Austin. The results we've seen have pushed us to expand Eraser Clinic's services to other regions in Texas. We were the first to offer Trinity laser tattoo removal in Austin and are now doing the same in San Antonio, which is clearly very exciting for us and our clients."
The Astanza Trinity is an industry-leading multi-wavelength system that combines the power of two lasers, Nd:YAG and ruby. The Trinity produces three different wavelengths – 1064 nm, 532 nm, and 694 nm – that each target part of the color spectrum, erasing even resistant inks like vibrant blue, bright green, and stubborn black. The Trinity's multi-wavelength capabilities matched with its unmatched peak power delivers fast ink clearance on tattoos of all kinds.
"Eraser Clinic has grown incredibly fast due to their passion for laser tattoo removal and a dedication to superior customer service," said Ryan Lambert, founder of Astanza. "We are very proud to have our Trinity present in this growing clinic chain and look forward to our continued partnership with such a strong, dedicated team."
About Eraser Clinic
Eraser Clinic is a specialty laser tattoo removal clinic with locations in San Antonio and Austin, Texas. They focus on completely removing unwanted ink as well as fading for cover-up tattoos. Eraser Clinic's medical director, Dr. Myiesha Taylor, is a board certified emergency medicine physician specialist with many years of experience in the laser tattoo removal industry. All laser technicians at Eraser Clinic are expertly trained at New Look Laser College, the world's leading tattoo removal training program.
Eraser Clinic offers free consultations and tattoo assessments for first time patients. For more information about Eraser Clinic, visit their website at https://www.eraserclinic.com. To schedule a free consultation at their San Antonio location (7400 Blanco Road #130, San Antonio, TX 78216), call 210-255-2788 or simply book online at https://www.eraserclinic.com/schedule.
About Astanza Laser
Astanza is a leading manufacturer of aesthetic lasers with a unique focus on the application of laser tattoo removal. In addition to developing cutting-edge medical laser devices such as the Duality, Eternity, and Trinity laser systems, Astanza offers its customers a complete range of training, marketing, and business consulting services specific to achieving success in this growing field.
Astanza Laser is headquartered in Houston, Texas with customers throughout North America and Europe. For product, investor, or press information, call (800) 364-9010, or visit http://www.AstanzaLaser.com.